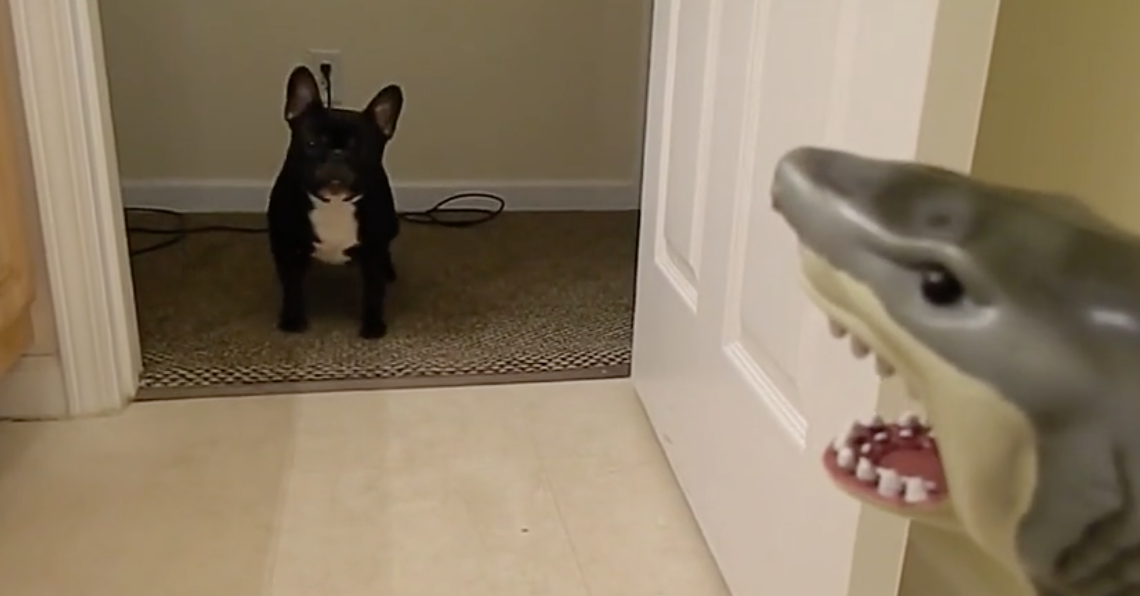 image via – rumble.com
It's a known fact that the majority of dogs love toys. With the wide variety of interesting and interactive playthings out there and readily available in the world, there's something for everyone, even the pickiest pets! Whether they're chasing after a ball, chewing on a knot or a rope, or tearing apart a plush animal, dogs just can't seem to get enough of their favorite toys. Many of our canine companions will even play with toys meant for children, after all they don't know the difference! They won't hesitate to snag a kids stuffed animal or bouncy ball and it's all part of their natural instincts to go after and investigate whatever piques their interest.
However, every now and then a dog will come across a toy that simply terrifies them! Instead of scooping it up in their mouth and going off to happily play with it, they react in a completely opposite manner. For Swayze, the three year old French Bulldog in this clip, the toy that frightens her the most happens to be a little plastic toy shark. In fact, she loathes the dinky little bath toy so much that even the mere sight of it is enough to drive her crazy!
According to Swayze's owner, she had been cleaning up her young son's bath toys one day and when she picked up the shark she noticed that her dog reacted strangely to it. Something about the Great White-looking shark immediately set her off and she started growling and barking wildly at it. The woman had never seen her cute little Frenchie act like this over a simple toy before, and her dog went so nuts that she just had to record the completely unexpected and totally hysterical response!
Whether the woman is holding the shark up or places it down on the floor, Swayze doesn't mess around with the evil toy or let her guard down one bit. She hates the darn thing and makes sure that her feelings towards it are known loud and clear. She throws the cutest mini-tantrum, protesting and whining in the most adorable way possible, that only a little Frenchie can pull off. Check out the clip to see her reaction, it'll make you smile! 🙂
Please SHARE This With Family and Friends