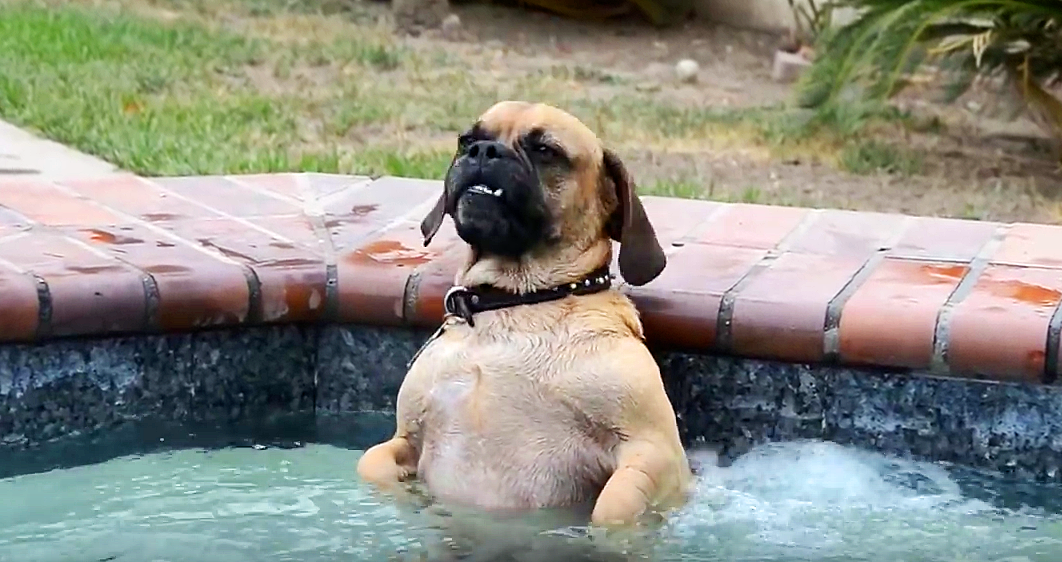 image via – youtube.com
Nothing beats a nice relaxing soak in a hot tub after a long, hard day. The streaming jets and hot bubbly water work wonders to ease achy muscles and help us unwind. While we usually think of hot tubs as being reserved for human use, it's not only people who enjoy immersing their bodies in the steamy therapeutic waters. Believe it or not, one dog absolutely loves taking regular dips in his family hot tub and this clip of him doing exactly that is simply adorable!
The sweet looking Puggle is named Cuzzie and as you can see, he knows a thing or two about how to utilize a hot tub properly! According to Danny Sam, his owner, "Cuzzie loves the jet in the hot tub against his back. He will hop in and press against the jet and croon his pleasure." The look on his face as he wiggles back and forth is one of such pure joy and sheer delight that it's priceless! He just looks so darn happy and it's always wonderful to see a dog enjoying life and having such an awesome time. While this clip lasts less than one minute, Cuzzie's owner said he spent about 5 minutes soaking in the tub on this occasion. Also, his owner noted under the video that the red stain which appears on his neck was caused by dye running from his collar. Hot water will do that and so it looks like it may be time to get him a new collar that won't stain his fur!
While it certainly looks like Cuzzie has it made and life is good for him, this wasn't always the case. Things weren't exactly so easy and he had a rough start in life. He was almost put down before his current owner stepped in and saved him. She is involved in and has rescued many other dogs, but there was something extra special about Cuzzie because he ended up staying with her. Now he is healthy, happy, and has a loving family who adore him and all of his goofy antics.
Furthermore, it turned out that he was a little more kooky than anyone ever expected, yet he's the good kind of crazy because he also smart as a whip and very intelligent! He figured out how to use the family pool as well by jumping on inflatables and floating around. However, the real game changer was when he learned about the hot tub. Now he jumps in and out of it whenever he pleases and as you can see and hear from this clip, it pleases him greatly!
Please SHARE This With Family and Friends Who Need a Smile Today 🙂