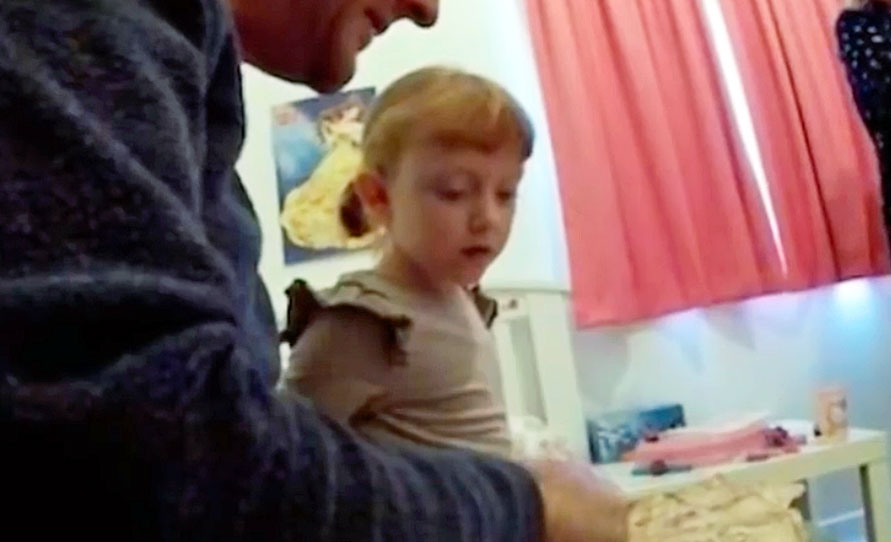 image via – youtube.com
When parents are getting ready for a new baby in their family they go through all sorts of preparations you wouldn't even know existed until you experience it. Whether it's painting the room perfectly pink for a girl, or a beautiful blue for a boy nursery, every little detail matters. The house has to be completely baby proofed so no accidents happen! Pretty much your entire living space has to evolve into a cozy nest for your new babe on the way.
This brings us to today's very interesting and very unique story.  A husband and wife who just got the news that they were expecting a new baby. Like many other couples they jumped through the usual preparation hoops, but the father of this soon-to-be baby girl came up with an intricate plan that would take years to execute to completion. To be more precise dad's plan would take exactly 6 years from the day his daughter was born to the moment his creative plan would come to fruition.
While his wife was pregnant he came up with a plan which involved him hiding an object in the house. This unknown object would remain hidden in their house for the first 6 years of his daughter's life.
The day his little princess turned 6, he began by telling her she needed to clean out some dusty old trash from an old trunk. As his little girl began cleaning out the trunk, her father secretly began filming and her mother and grandma, having previous knowledge of his master plan were watching her every move.
Finally she got to the bottom of the trunk, after she got through all the useless crap, and she found a surprise in there she never could've seen coming. It was an aged brownish paper, which looked like an old treasure map taken straight from a pirate's ship. When it first hit her that she was now in the middle of a treasure hunt and she was the sole owner of the map, she became super excited and ready for her big adventure.
At first she tried to orient herself, what was this map depicting? Where did it lead to? Would she have to leave her house to find the hidden treasure which awaited her? All these thoughts and more ran through her little imagination. Finally she realized the map was actually an ancient blueprint of her very own home.
As she looked at the map, followed the different paths which it led, she soon noticed that the hidden treasure was actually right inside her room! Was it possible that for her entire life she was sleeping in a room with a hidden treasure she didn't know existed? She would soon find out.
The map brought her into her room as her dad, mom and grandma followed behind her. She looked around and from the looks of it, the map was directing her to a certain wall in her room, that according to the map concealed a hidden doorway into a magical secret room!
She walked up to the wall where the map said her treasure would be located, but from what she could see there was no hidden door, no way to get inside and no way she would be able to find what she was looking for. This is where dad decided to help her out just a drop, as he began to lightly tap and knock on the wall, which echoed back with a strange hollow sound.
Dad then took everything up to the next level, when he grabbed an electric saw and began cutting into this wall. He sawed a perfect sized square in the wall, which was the perfect size for his daughter to crawl inside and see what surprise awaited her on the other side. As excited as the little girl was, her dad might have even been even more ecstatic being that this was a 6 year project finally culminating right now!
The little girl went through the little square and was amazed to see a magical hidden room, which was only a few feet away from where she slept every night! She couldn't believe what she was seeing or what was happening. She began looking around the hidden room when she spotted something, which looked like a little treasure chest.
She quickly ran to the box, opened it and inside were all sorts of old vintage coins, magical talismans and what looked like ancient jewels and jewelry. She was over the moon with excitement. So was her father but as he saw how much she was loving every second of this, he just couldn't tell her he was the man who set this up all those years ago!
For the next few days, his daughter couldn't stop showing off all her magical treasures to her mom, dad and grandma. She spent hours every day playing with each special object. Her dad decided that he wouldn't tell her the truth about how he planted this box years ago so that his daughter would one day have this amazing moment straight out of an old fairy tale!
Watch the video below for the full story:
Please SHARE This With Family and Friends