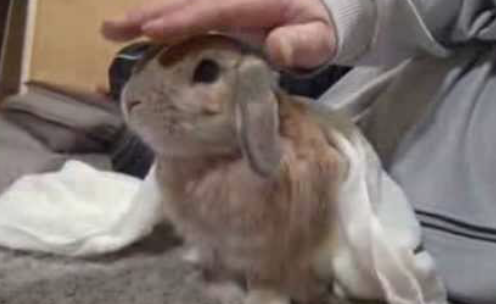 image via : facebook.com
Some animals know exactly what they want and oftentimes they enjoy receiving a nice, gentle, relaxing hand massage from their human companions. It's no secret that many of our furry pets love to be pet, which may be why we call them "pets" in the first place. Or maybe it's the other way around, and we call it petting because they are our pets. Whatever the case may be, lots of animals simply love being stroked and scratched. They usually have a sweet spot where they especially like being rubbed. For cats it seems to be around the cheeks, dogs like their ears and back scratched, and then there are some whose sweet spot is everywhere and anywhere.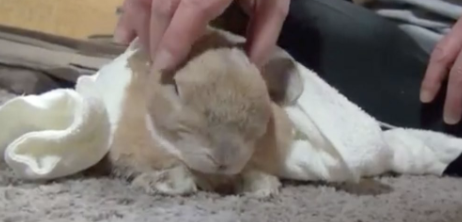 The little bunny in this video seems to fall in the latter category. From the looks of it he likes being pet all over, especially down his backside. The man in the video gently strokes his ears, nose, cheekbones, temples, head, and back, while the bunny twitches his nose and sits with a content expression on his face, his body completely relaxed and at ease.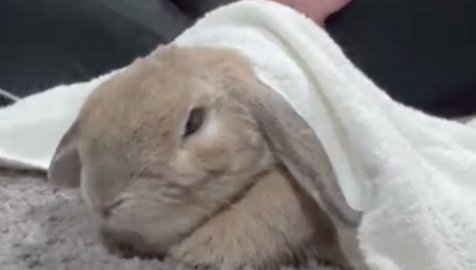 When the man stops petting him the bunny is clearly not happy about it. He stamps his furry little paws and lets out adorable growling sounds in protest. It might just be the cutest behavior I've ever seen a rabbit do! At one point the furry little guy searches for more pet-pets by crawling under the man's hand, urging him to resume the mini-massage that he so rudely ended. This bunny knows what he wants and he's basically telling the man through his grunts, growls, and foot thumping that he is not pleased the cuddle session ended!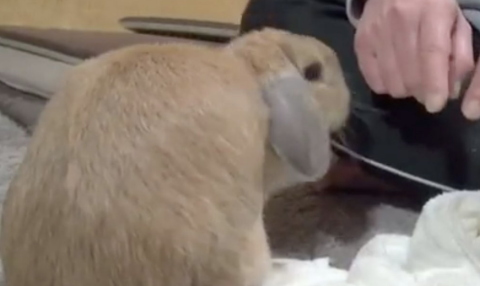 Contrary to popular belief, lots of rabbits love being pet and shown affection. The areas they most enjoy being pet is on their head and down their backside. Many often like their dewlap, the roll of skin underneath their chin, scratched and rubbed, but some don't like this at all. The bunny will let you know whether or not it's enjoying the attention. When they purr, chatter their teeth, flop over, and close their eyes it means they like it and if you stop and they poke your hand with their head it means "don't stop, keep petting!"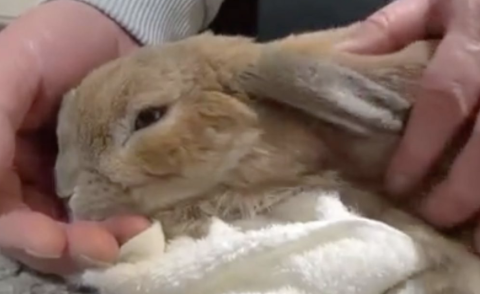 Rabbits are very expressive, you just have to know how to read them, and over time you become familiar and accustomed to an individual one's behavior. Like every other pet, they have their own distinct personalities!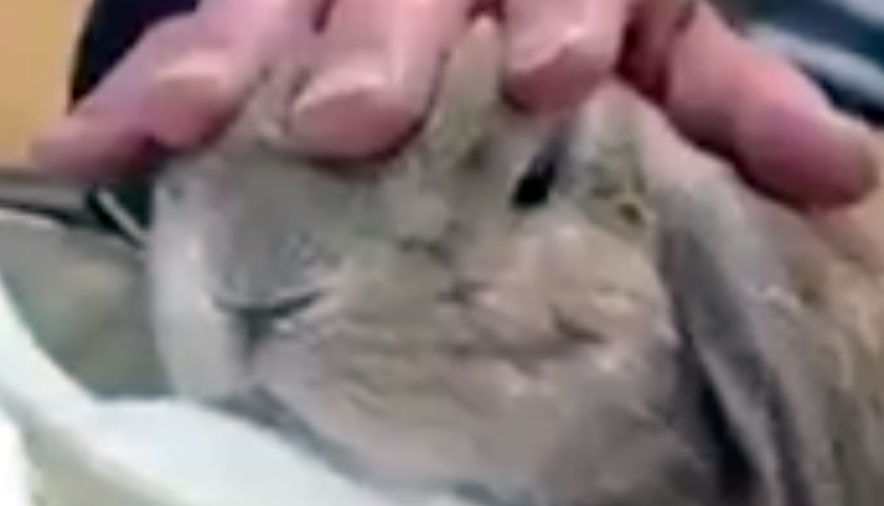 The adorable bunny in this video has certainly bonded with his human friend as he feels comfortable telling the man what to do. The little cutie looks so happy being pet and snuggled in his blanket, and if that can't put a smile on your face then I don't know what will. Enjoy this hysterical video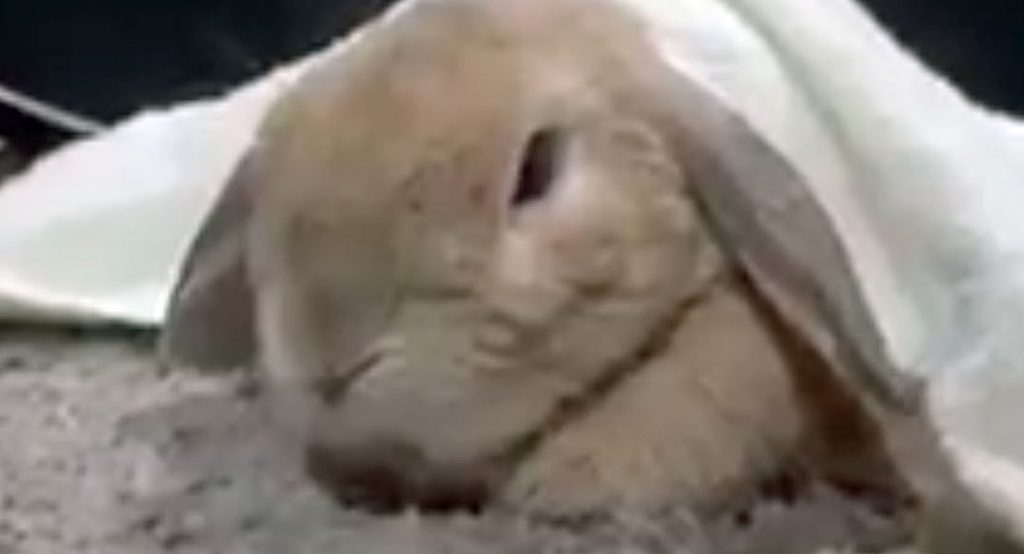 Please Share This Hilarious Video With Friends and Family Who Need a Smile Today 🙂
If you enjoyed this fussy bunny tantrum throwing an adorable tantrum when he doesn't get his pet pets keep scrolling and watch this strange and hilarious sheep herding bunny: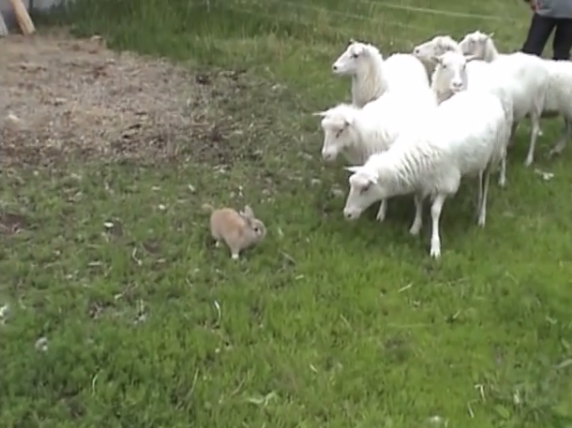 image via – youtube.com
You have probably heard of dogs herding sheep, but have you ever heard of bunnies herding sheep?  Meet Champis the strangest and unique bunny possibly in the entire wold!  This hilarious little rabbit has a rare talent for sheep herding. He takes his job seriously and does it everyday! I'm pretty sure Champis isn't sure he's a rabbit and he clearly doesn't know how to bunny at all!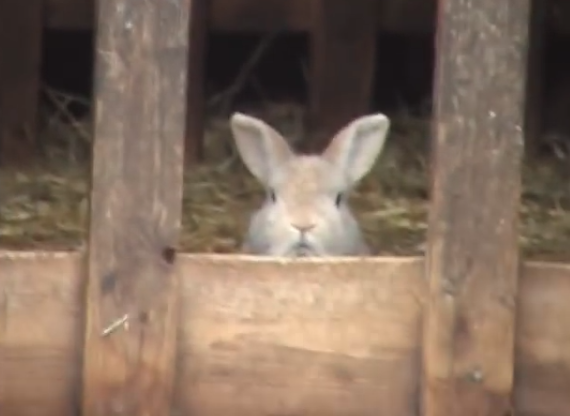 His Human Greta Vigren first realized Champis' talent after the sheep were released after a long winter.  She says, that he just started acting like a good old fashion sheepdog and had no prior training.  He is strictly a sheep herding bunny because he tends to leave the hens alone and treats them in a much more gentle and nurturing way.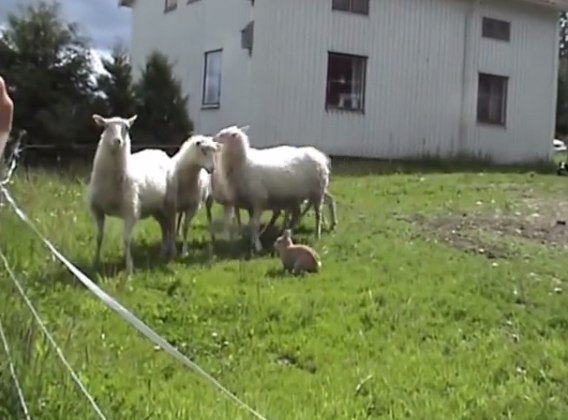 According to his human, this bunny is the king of the farm, his ego is completely out of control, and his reign is over the hens and the sheep! All the other animals on the farm know this lil' bunny is completely running the show. He might be small in stature but don't be fooled by his size this lil' guy is all business all the time!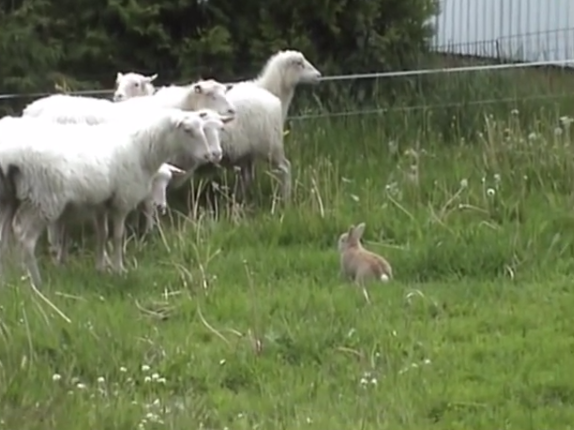 Dan Westman, the man who shot the video and works with sheepdogs everyday exclaimed that very few dogs could do what this rabbit does.  Champis was never taught this behavior and just started doing it on his own.  Maybe he was a sheep dog in his past life?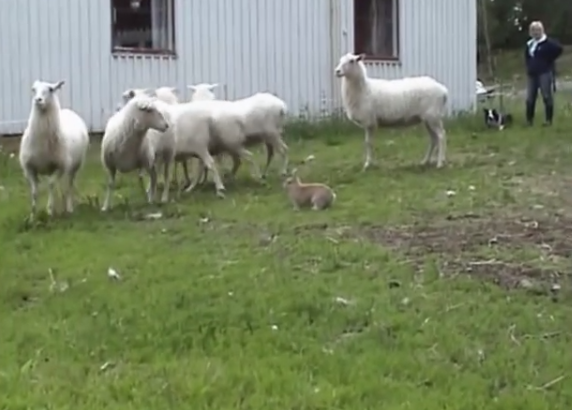 Have you ever seen a sheep herding bunny? Let us know!
Please Pass This Onto Your Family and Friends
Well a sheep herding bunny was a first me! So strange yet so adorable. If you enjoyed the sheep herding bunny keep scrolling and watch the next video when this baby attempts to eat a cookie but the bunny decides to snatch it and run away with the tasty snack: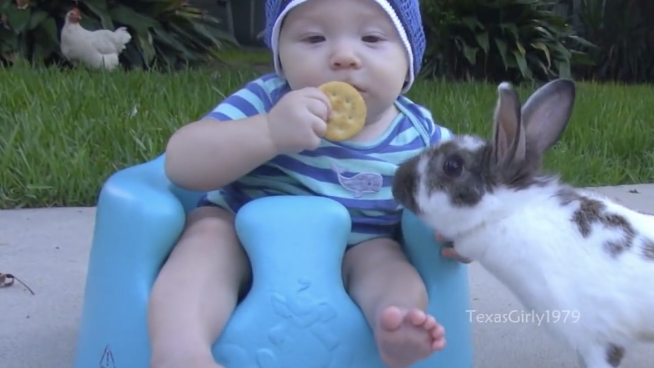 image via – facebook.com
A mother decided to record her 5 month old baby's first bite of solid food so she could cherish and relive the memory forever.  She set up her camera, started rolling, and gave the young child a Ritz cracker to enjoy.  The baby takes his time exploring the new food, smelling it and putting it near his mouth.  Right beside him is a furry bunny named Oreo who is just as interested and curious about the food as the baby is.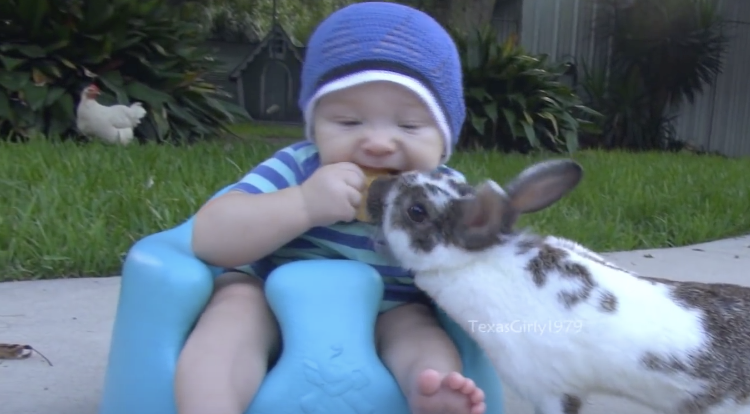 As the child begins to put the cracker in his mouth the bunny swiftly snatches it out of his grasp and quickly hops away.  The kid never even got a nibble on it!  The rabbit seized the opportunity to steal his favorite snack, Ritz wheat crackers, and took full advantage of the situation for himself.  The baby  seems to be unsure about what just happened and confused about why he no longer has his cracker.  It was all too new and fast for him to fully understand.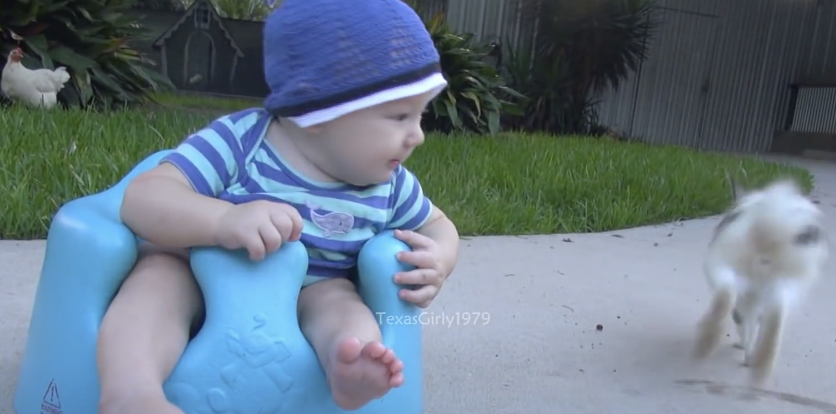 When the camera zooms in on Oreo in the background it captures him happily snacking away on his favorite treat.  The next time mom tries to give her baby a cracker she better keep Oreo out of the area because he is just too sneaky and quick when it comes to snagging food!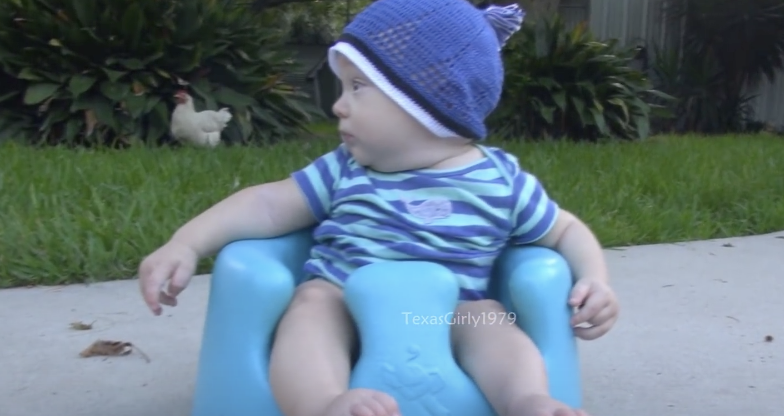 Pass this adorableness onto your family and friends