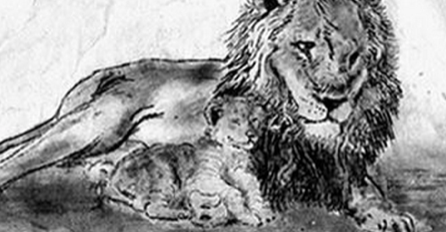 Paul Smith was born in the 1920's when people with cerebral palsy weren't given good odds of living.  There was no such thing as mainstream education for someone with his severe case of spastic palsy which severely limited his ability to speak, move and fine motor ability.  As a result he was illiterate. He had many gifts, the first being perseverance.  After 16 years he learned to speak, and 32 to learn to walk.  
At the age of 11 he devised a way to create paintings using only 10 symbols on the keys of an old fashioned typewriter, as he did not have the fine motor ability to hold brushes or pencils. His artistry developed over the years into truly mind-blowing works of art that he painstakingly worked on as he listened to classical music.  
In the 1960's, after his parents died he moved into a nursing home that became his new family.  In addition to his amazing artistry he became a chess master and enjoyed sports.  Defying the odds, Paul Smith lived to the ripe old age of 85; Living a life of purpose as he created works of art that were innovative and will stand the test of time.  
He is an outstanding example of the power of the human spirit to overcome adversity and rise to the highest heights of achievement. You will be amazed at what you are about to view in this inspirational video.
Please SHARE With Family and Friends