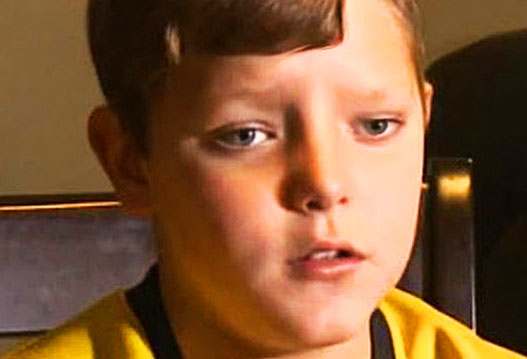 image via – youtube.com
The bus ride home from school can get really boring quite quickly. Going the same exact route day in and day out makes it easy to zone out and many kids end up staring out the window, watching the world go by. That's exactly what Jerald Withers was doing one November afternoon when he noticed that something just didn't look right.
The eleven year old boy was riding the bus on his way home in Festus, Missouri and knew the route like the back of his hand. That's why when he saw that a guardrail along the roadside was damaged and majorly dented, whatever had caused it must have happened that day. As the bus passed on by, Jerald could see bits and pieces of metal and plastic scattered along the road and he thought he even saw a person sprawled out in the field.
Surprised that no one else seemed to even notice, he ran to the front of the bus and alerted the driver about what he saw. The bus driver agreed that there was something out in the field, but he passed it off as nothing and kept on driving.
When Jerald arrived home his mother, Brandy Overturf, immediately noticed that he was upset, and so she asked him what was wrong. He told her the story and she knew they had to go check and see if there was someone out there who might need help. Even if it turned out to be nothing, at the very least they'd be putting Jerald's mind to rest.
When they got to the spot Brandy parked on the side of the road and waked over to the bent guardrail with her son. They looked down and there in the ditch below was a wrecked motorcycle lying in a crumpled heap of twisted metal, it had been totally destroyed. Suddenly Jerald took off running down the side of the embankment and shouted for his mother to call 911. He had spotted the biker who was near the wreck, he still had a helmet on but wasn't moving.
Soon paramedics arrived on the scene and they told Jerald and his mother that the biker was still alive, but it didn't look good and might not make it. They rushed him to the hospital and soon identified him as Billy McMahan. Brandy and her son went home afterwards and waited for what seemed like hours for an update from the hospital on Billy's condition. Finally it came, he was going to pull through and make it out alive!
According to Billy, he had wrecked his bike and been down in the ditch for hours before Jerald went by on the school bus and noticed him. If the boy and his mother hadn't driven back around to check on what he thought he saw, Billy would have likely died from exposure that night as it was freezing outside.
Word spread quickly about what had happened and soon people all over town were calling to congratulate Jerald for being so observant and insisting on double checking his hunch. One stranger who heard he liked baseball gifted him tickets to see a St. Louis Cardinals game and even the Green Bay Packers, Jerald's favorite Football team, got wind of what he did and sent him an autographed photo of their star quarterback Aaron Rogers and a bunch of official team gear!
Even after all the attention and neat free stuff he got, Jerald was simply happy to have been able to help someone who needed it. He saw something and said something, and that made all the difference in the world.
Watch the video below for the full story:
Please SHARE This With Family and Friends