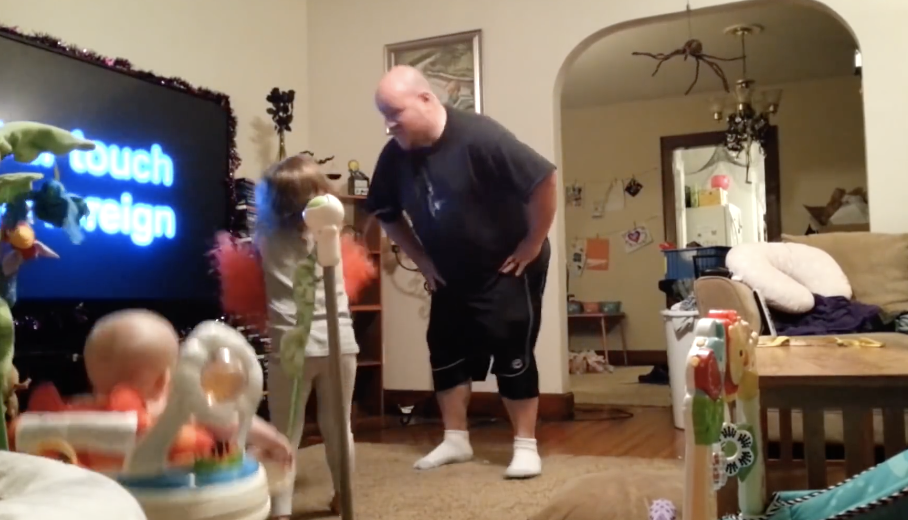 No one wants to give dads a bad rap, but if mom is the primary caretaker, she sometimes is a bit concerned about leaving the kids with him for a prolonged period of time.  Well, anyway, the mom who set up a hidden camera to see exactly what goes on in her absence had some concerns.
I don't want to tell tales out of school, but one time I left my 2-year-old son home with hubby (many years ago) for a few hours, and came home to find dad asleep and the baby outside taking a walk!  All is well, son has grown up, but that was a scary moment.
The dad in this video has been left in charge with his 3-year-old daughter and her baby sister.  We see the little girl in front of a giant screen tv bopping along to a song with baby in the bouncy chair. Where is dad?  Well, don't worry, this dad isn't asleep.  He enters the scene, puts down a laundry basket and what ensues is hilarious!
This mom has nothing to worry about.  Without a self-conscious bone in his body he and his girls enjoy time together that is adorable and heartwarming.  So you think you can dance?  Watch this loving pop in action. His little ones are the apple of his eye and his main priority.  Giggling and fun abound!
Please Share This Video with your friends and family