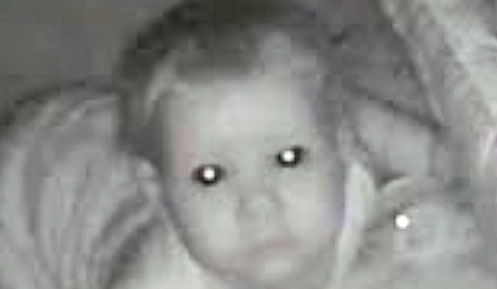 image via – youtube.com
In today's world technology surrounds us in every corner of our life. From our smart phones, smart tvs, computers, alexas, video games, apps, bluetooths, wifi and everything else that comes with modern technology it's hard to ignore. Sometimes we get so caught up in all the new flashy bells and whistles of a technology that we forget what life was like before tech took over. For the most part, the technologies we use everyday are there to make our lives easier however, sometimes they can turn on us and make our lives 1000's times more difficult.
In today's highlighted story we will focus in on a couple from Cincinnati, Ohio who had just had their first baby. Like many new parents in their position they went ahead and purchased a brand new state of the art baby monitor so that they could make sure their little toddler stayed safe. Many parents also feel guilty leaving their child alone so the baby monitor is a great tool to have so that even when you aren't physically with your baby, you can keep track of them while you do adult stuff.
Also, many toddlers can be a tad mischievous as they are just learning to walk around and their minds are analyzing and trying to understand everything in their new world. While this is a completely and healthy behavior for a toddler, sometimes this curiosity can lead accidents.
One evening, mom and dad put their baby to bed. They tucked her in tight, read her some bed time stories, sang some lullabies and the baby peacefully fell asleep. They then went into their room to get some much needed rest before work the next day. Little did they know something unthinkable was about to occur.
The couple was super exhausted and fell asleep just as their head hit the pillows. Then, the mother woke up an hour or two later because she heard a strange sound on the baby monitor. Being that she was half asleep and a bit out of it she though it was probably just daddy checking on the baby. But when she turned around in the bed she saw her husband peacefully sleeping in dreamland.
Then the sound stopped for a minute or two and she honestly questioned if she was dreaming or possibly even hallucinating. After about two minutes the odd noise was back but it was much more clear this time. She distinctly heard the words 'wake up baby' through the baby monitor! Her heart dropped into her stomach in pure fear, the hair on her arms stood up and she was shaken to the core of her soul.
She rolled over and began shaking her husbands shoulder to get him up immediately. She told him she believed somebody was possibly in the babies nursery because she had heard a super creepy voice over the monitor. On their phone app one of the great features is being able to control the video pans and audio levels inside the babies room.
They looked at the monitor in the room from their baby monitor phone app and saw that nobody was in the room with the baby girl.  They felt a sense of relief, however the camera then moved without either of them touching it. The camera was panning and swinging shots wildly all around the room….
Now they knew something sinister was definitely going on inside the baby's room so dad jumped out of bed as fast as he could and sprinted to the nursery. When he got in there again felt a sigh of relief when he saw his darling baby girl fast asleep and no stranger was in the room with her. However, seconds later the baby monitor camera focused in on dad and began aggressively speaking to him, saying disgusting things and many profanities.
Dad quickly ripped the baby monitor out of the wall and smashed it into the wall. He had no clue what was happening but he wasn't about to take any chances…. What was happening? Who was this man speaking to him and his child? How would this ever even be possible? He had no answers, but then they would soon find out the bone-chilling truth..
Watch the video below for the full story:
Please SHARE This With Family and Friends