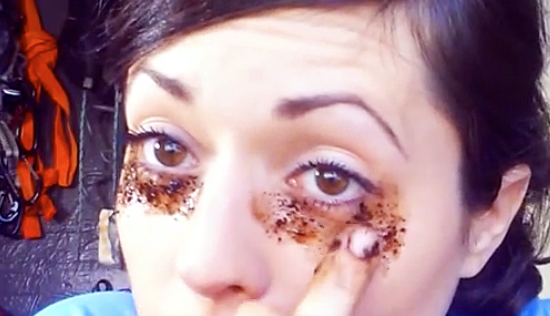 image via – youtube.com
Lots of people cannot start their day off properly without a brimming cup or two of freshly brewed coffee, it just gives them the extra jolt they need to kick start their morning into gear. The popular morning beverage of choice not only tastes delicious and smells wonderful, it can also be used for purposes other than giving us an energy boost.
One such alternative use is as the main ingredient in a beauty treatment that helps to reduce and eliminate dark, puffy under eye circles. All you have to do is save the leftover grounds and then mix them up with a few other basic things.
The result is a low cost, simple, and all-natural topical scrub that you rub on your face! So if you're tired of having dark under eye circles and struggle with the unsightly blemishes, you have to give this home remedy a try.
Other than coffee beans, you will also need black peppercorns and coconut oil. In the palm of your hand start by mixing together some ground coffee beans with a pinch of black peppercorns, before adding in a tiny bit of coconut oil.
While there are no set amounts, you can refer to the accompanying video from Simplecare Products to see how much the girl in it used. You can also experiment with different amounts of each ingredient to see which combination works best for you and your skin type.
To apply the mixture use the tip of your finger to gently dab it onto the skin under your eyes. Work carefully and make sure to avoid getting any of it in your eyes! Leave it on for at least 5-10 minutes, or until it starts to dry, that way you know the oils have penetrated and been absorbed into your skin.
To remove, simply wipe it off with a soft wet cotton cloth, then follow up with an application of your usual moisturizer or skin product(s). This eye treatment can be done several times a week to help reduce inflammation that may be a contributing factor to any dark under eye circles or puffiness. It helps tone and tighten your skin and the coconut oil works to moisturize it as well.
Coffee, and caffeine in particular, has been used in a number of at home beauty and personal care treatments. Its also been found to work well at reducing the appearance of cellulite because of the fact that caffeine can temporarily help to tone and tighten skin. That's why many body scrubs and lotions that promise to do so much contain and list it as an active ingredient.
While many products and treatments have been touted as effective at making dark under eye circles go away, most of them are ineffective, and some may even potentially damage the fragile under eye skin. The safest way to try and combat dark under eye circles is with this simple, all-natural treatment.
It's extremely affordable and won't harm the environment like most of the ingredients that are found in beauty products do. Try one of these applications tonight and see the results for yourself!
Please Share This With Family and Friends 🙂