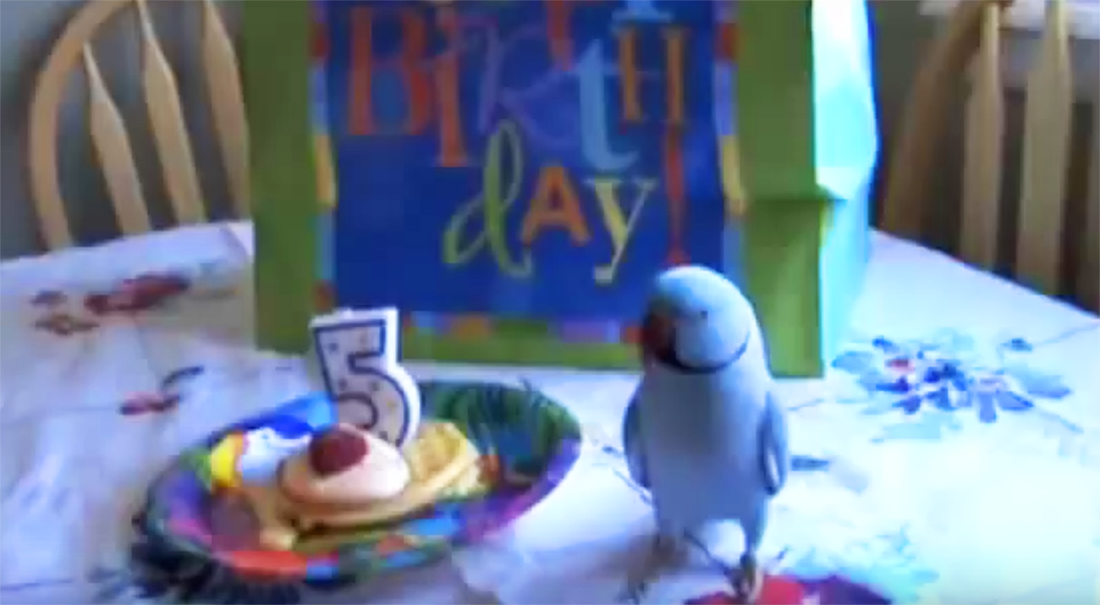 image via – youtube.com
When you really love your pet companions and treat them like they're all part of the family, you naturally throw a party when one of them is having a birthday. That's how people celebrate milestones and lots of adored pets and animals all around the world get presents, tasty treats, and other forms of special treatment on momentous occasions, most often on their birthdays!
A few years back one very special Blue Indian Ringneck Parrot named Marnie was turning five years old. His owner wanted to do something fun and memorable that all of her pets could get in on, so she ended up doing something extra special. Marnie's mom ended up throwing him the best party a sweet little bird could ever ask for! She really outdid herself and baked up a delicious looking feast of the one food that Marnie loves most, which happens to be waffles topped with strawberries and cream. The mouthwatering looking food wasn't the only special idea she had in store, his mother also made sure that all of Marnie's best bird friends were there to celebrate with him. In fact, even the cute family dog stopped in to say hello and celebrate the milestone.
However, the real star of this clip was Marnie. His reaction to it all was simply adorable and the little parrot was clearly thrilled with the whole festive display put on especially for him. His reaction says it all and speaks volumes about what an adorable, sweet, kind, and truly loving bird he grew to be in his 5 years of life. One of the most memorable parts of the party was when Marnie received his birthday presents. His mom gave him a brand new little stuffed bunny and as soon as he laid his eyes on the plushy rabbit he fell on love. At one part in the clip Marnie leaned in to give his new bunny a kiss, then he told it 'I love you,' if that isn't heart melting, what is!?
The birthday boy's antics didn't stop there. He was gifted several more presents and ended up with a few more stuffed animals. Every time he got a new one he politely said 'thank you' to his mom, followed by 'gimme kiss' or 'whatcha doin." Those are some of the phrases he knows best but according to his owner he also knows the expressions 'you're so cute,' 'peek-a-boo,' 'bye-bye,' 'that good?,' 'Whee!,' 'quack quack,' and 'yuck, yuck, yuck.' She also mentioned that Marnie is a real love bird who's always asking for kisses!
Furthermore, his fondness for stuffed bunnies began back when he was adopted, which happened to fall around Easter time. That was also when his mom was gifted a toy bunny that said aloud "some bunny loves you" when it was squeezed. With time, special attention, plus the help of that talking bunny, Marnie's parents taught him to speak and the rest as they say, is history!
Check the sweet bird out and fall in love. It's really hard not to enjoy this video and you can't help but smile and think about what a great parrot Marnie has grown up to be!
Please SHARE This With Family and Friends