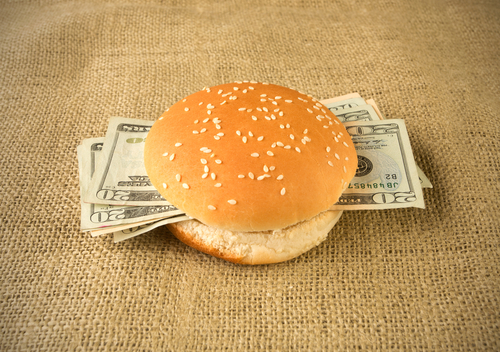 image via – shutterstock.com
When it comes to food, we all like to think that we are in control of the choices we make when it's time to eat.  But before you even take a bite of a burger you ordered or reach into a bag of chips; you've already been influenced by certain tricks that food sellers have come to rely on.  
Across the food industry and at every level there are food scams being played out. Restaurants, bars, grocery stores, manufacturers, and major companies all want to make the most money possible.  If pulling a higher profit means using psychology and how people think against them, then so be it.
Your best defense against falling victim to food scams is to be familiar with the most common types.  The following list goes over some of the most widespread ones that any consumer is likely to come across:  
1) Overpricing.  Many dining establishments will place the most expensive item at the top of the menu so it's the first one you see.  As you scan down the menu it makes everything else looks cheaper in comparison and you're more likely to choose a less pricey option, even if it is only a dollar or so less.  This is so widespread there's a special name for it called 'anchoring.'
2) Portion Illusions.  The goal here is to make you think you're getting a great deal for what you're paying.  Whether through advertising or plate size, businesses will try their best to make it look like a lot more than it is.  Oftentimes careful comparison of packaging, weights, and sizes will show that you really aren't getting much more than what you're made to think.
3) Free Snacks While You Wait.  Those complimentary bowls of peanuts, chips and salsa, or baskets of bread that you sometimes get before a meal are meant to make you thirstier and therefore more likely to buy another drink or two.
4) Bar Glasses.  The shape and thickness of a glass can greatly alter how much it can hold.  Bars often use thicker glassware and fill them up with ice before making a drink.  This gives the illusion of a brimming full drink, but the reality is the customer is only getting three-quarters, or just half, of what they thought they were paying for.  Always ask for light or no ice to ensure you get your monies worth.
5) Portion Sizes.  Ever opened a bag of chips only to have a blast of air puff out in your face, and then when you reach into the bag it's only filled a quarter of the way?  Filling bags like this is a common trick and many companies actually reduce the amount of product they put in them very slowly over time so that consumers don't notice, and they save money.    
6) Misleading Visuals.  All those fast food commercials you see with perfect looking, steaming fresh food that make your mouth water are created specifically to bait you into the store.  We all know once we get there that the burgers are smushed and the food looks nothing like what was portrayed on TV, yet many of us fall for the advertisements anyways.
7) Best-By and Sell-By Dates.  Grocery stores will place food products with the nearest sell-by date at the front shelf because most customers grab whatever is closest.  Since the food expires sooner than later, they have to go back to the store more often to buy the item again. The next time you're at the supermarket, pay closer attention to the sell-by dates and dig towards the back to get the food that will last longer.
8) Low Quality Ice Cream.  Besides tasting subpar, cheap ice cream is only made soft and creamy because a lot of air is whipped into it.  That means you're actually paying for much less actual ice cream than you would be if you bought a more expensive quality kind that doesn't have all that extra air whipped in.  You can see in the video how the melted ice creams compare, it shocking!
9) Color.  Brighter, more natural, organic looking colors are what fast food companies use in order to make their food and businesses appear healthier.  The bright colors stimulate your brain and remind you of fresh fruits and veggies. In effect, they make you think you're eating healthier than you really are.  
10) Plumping.  This has to do with artificially injecting meat with water to make it appear fuller and weigh more.  Because meat is sold by the pound to consumers, plumping up poultry can bring in a lot of money for sellers.  Random testing has found that some chicken has contained up to 30% water, gross!
Watch the video below for further information so you can be aware when you are being scammed:
Please SHARE This With Family and Friends