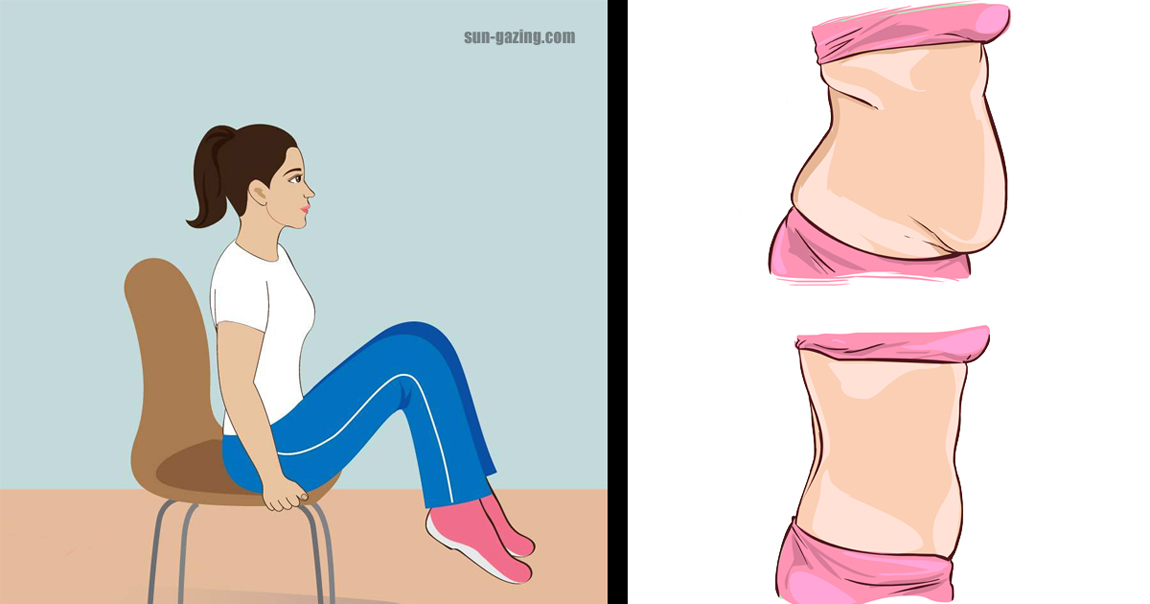 image via – shutterstock.com
Would you be happy to strengthen and flatten your abs without doing hundreds of crunches? There is a much more effective way to get results!  Most of us sit during a large part of our day.  It is often hard to fit in a workout before we leave for the office, or even if we work from home, frustrating our desire to get in shape.
The VIDEO you are about to watch below, offers a logical solution which focuses on those abs that we'd like to flatten and firm…ALL WHILE SITTING IN A CHAIR!  Denise Austin, from the YouTube channel BeFit, demonstrates 6 easy-to-follow moves that focus on: SCULPTING AND SLIMMING THE WAISTLINE AND TIGHTENING THE OBLIQUE MUSCLES.
THE 6 EXERCISES DEMONSTRATED ARE:
1. KNEE PULL-INS
You pull one knee at a time into your abs, feeling the pull from the navel to the spine.  This move TARGETS THE LOWER ABS.
2. DOUBLE KNEE LIFT USING AB MUSCLES ONLY
This more advanced move works the entire abdominal area.
3. OBlQUES (SIDES OF WAISTLINE)
Leaning slightly to the side, you do the same move as #2, alternating sides, using your ab muscles to lift your knees into your stomach.  Repetitions of this exercise SLIMS THE WAISTLINE.
4. ROTATIONS
With your arms bent up at the elbows, you twist from side to side.  This move KEEPS YOUR CIRCULATION GOING THROUGH TO THE SPINE.
5.  FLOOR REACHES
Alternate reaching across and touching the floor, while keeping your feet flat on the ground. This move works those stubborn LOVE HANDLES.
6. PULL-UPS
Holding onto the arms of the chair, pull your knees into your abs and lift your whole body off the chair, and hold yourself up as long as you can.  This not only STRENGTHENS YOUR CORE (which is so important to keeping your back pain-free), but WORKS YOUR ENTIRE ARM.
Watch these moves demonstrated in the footage below, to achieve the results you want!
Please SHARE these amazing CHAIR EXERCISES with your family and friends