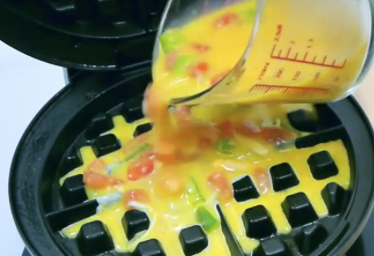 image via – youtube.com
Ok, so I'll be honest, my waffle iron has been pushed to the back of my pots and pans cabinet, for some time now; I just really forgot about it until I came upon this amazing video that you are about to watch below. It's time to dust off the old machine and start creating these waffle iron masterpieces! The best part about it, is pretty much every recipe covered is super easy to pull off and you don't have to be a professional chef to pull these off!
If you have a waffle iron pull it out, and if you don't I can guarantee that you will be getting one, after you see the incredible diversity of things that can be made.  What's so amazing is that each thing is so simple to do, the results are delectable, and cleanup happens in a snap. There is nothing better than a good breakfast, especially when the cleaning after you make your tasty breakfast is easy as ever.
Now, if you are a breakfast person, besides waffles, she shows you how to do omelets and more, right in the waffle iron.  If you have a sweet tooth, as do I, you won't believe how she does Brownies and Cinnamon rolls right in the iron!  I tried making the brownies and all I can say is Yummmm! This weekend I will be testing out a bunch of these recipes and having my family and friends do some taste tests!
Let us know how yours turn out! Enjoy, Bon appetite!
Please SHARE This With Family and Friends