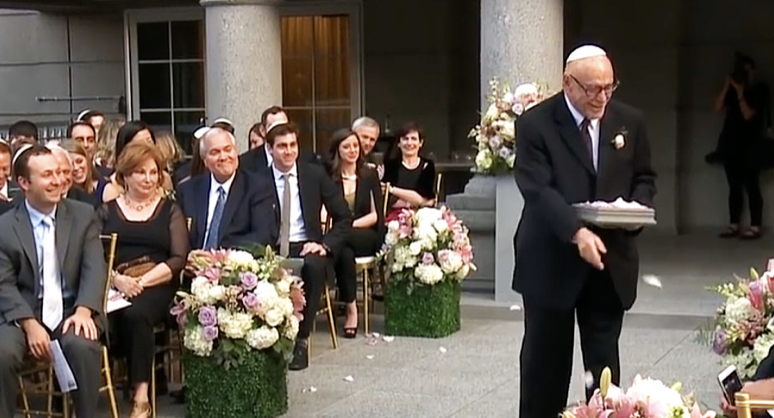 image via – youtube.com
Weddings are steeped in many different types of traditions. Everything from the music played to the order and procession of events is generally pretty much the same across the board. In recent years couples have been throwing in more little surprises here and there, like all of those special dances you see online that they planned and practiced before the big day. However, even those trends eventually catch on and become a tad bit stale.
Then of course, there will always be those couples who switch things up completely and do them their own way. Jennifer Briskin is one of those people and she was set to tie the knot with her soon to be husband Austin Tansantisuk on October 1st 2016 in Atlanta, Georgia. The pair had everything picked out and planned to their tastes, save for one last final thing, the flower girl.
Jennifer had reserved that role for one of the most special people in her life who she was the closest with, her 85 year old grandfather named Stanley. That's right, instead of giving the traditional role of flower girl to a younger family member or friend's child, she did the complete opposite! She wanted to include her grandpa in the wedding party and make him a part of her big day, so she spent out a special invitation asking him to fulfill the honors. The bespoke invitation read "Papa, Will you be my Flower Grandpa?"
She recalled that "In thinking about the typical roles of a wedding, I couldn't shake the idea of him walking down the aisle throwing flowers like a flower girl. I joked with him that I wanted him to be my 'Flower Grandpa,' and the idea stuck!"
Her grandfather graciously accepted the invitation and was even a little bit nervous about the whole thing! He was a little rusty on what was expected of him and so Jennifer and her sister Allison, who was also her maid of honor, set up a rehearsal and ran through it with him.
It's been said that 'practice makes perfect,' which may work in theory, but as you can see in the video, practice did not help Stanley all that much. Grandpa took a different route down the aisle and rather than scatter the flowers evenly down the center, he decided to throw the petals all over the guests and they loved it!
The attendees were laughing and absolutely delighted at being showered in flowers. It all made the day that much more special and Stanley was the unexpected star of the show. Check out his awesome 'Flower Grandpa' skills, it'll be sure to put a smile on everyone's face!
Please SHARE This Flower Grandpa With Your Family and Friends 🙂