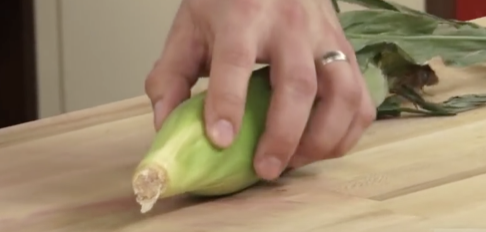 Summer is full of awesome things from the weather to vacations, fireworks shows, and beyond. But perhaps one of the best parts about it is all of the delicious fruits and vegetables that are in season. On a hot, sunny day nothing is as light and refreshing as a fresh picked ear of corn on the cob!
Corn seems to go with just about everything people love to eat in the summertime, especially BBQ. It can be boiled and served simply with butter and salt or grilled and shaved over salad for a more exotic dish. It's also one of the most convenient and versatile veggies out there. Plus even picky children love the sweet, crunchy kernels!
Regardless of how you choose to enjoy your corn, the fact remains that it needs to be peeled and the husk fully removed before you can bite into it. If you have a dozen ears you need to get through, shucking them all can take some time. It can be a messy endeavor too, all those fine silky fibers stick to everything and fly around.
You can avoid all of the hassles of peeling corn in the first place with this simple trick from America's Test Kitchen. The less than one minute video quickly goes over the easiest way to shuck corn on the cob so check it out and try this method the next time you're having it for dinner:
First, take a piece of corn and lay it flat and securely on a cutting board. With a sharp knife carefully cut about one inch off the end where it grows from the stalk. Place the corn in the microwave for 2-4 minutes, remove and let it sit briefly so it cools down. Grab the end that you did not cut firmly and gently shake it until the ear slides out from the husk. It will be silk and husk free and ready to be cooked!
One last thing! Here's another corn on the cob cooking tip: Bring a pot of water to a boil, add a little bit of milk to it, place the ears in the milky water, boil for about five minutes, and drain when done. This easy method gives you delicious, sweet, creamy tasting corn that melts in your mouth!
Please SHARE This With Family and Friends 🙂