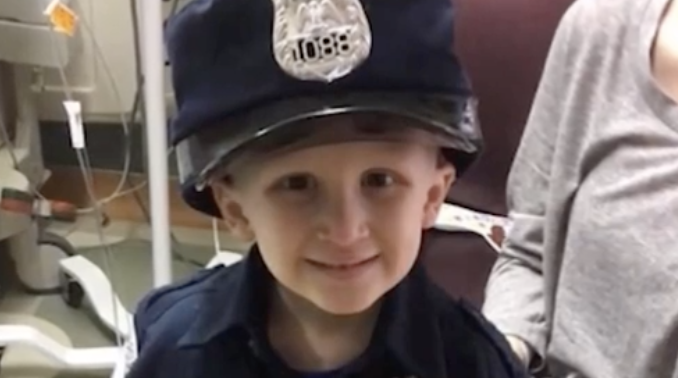 image via – youtube.com
For any mother or father losing a child is probably the most devasting and horrible thing someone can experience. The loss, pain and sadness is more than most can handle. It is truly something that no amount of time could ever heal.
Which brings us to today's story which features a young boy named Nolan Scully and his mother. Nolan was terminally ill and his disease called Rhabdomyosarcoma was progressing rapidly. It is an extremely rare form of Cancer and the poor boy was diagnosed when he was a mere 3 years old. Life was quickly coming to an end for the young boy as he knew he was going to die and began to speak openly about it.
Nolan although, quickly detoriating showed so much courage, strength and bravery during his battle with this horrible disease. Even as he knew he was going to be leaving this earth, he faced it head on and fearlessly. Nolan only had one wish before he passed onto the other side.
He wanted to protect and serve his community and become a police officer. As he laid in the hospital, the chief of police came to visit him and swore the young lad in as he became Sargeant Roland Nolan! The fire departments also made him an honorary fire man as he laid on his death bed.
Nolan's fighting spirit and attitude in the face of the worst possible adversity struck a nerve with so many people as his story went viral and his facebook page gained over 300,000 followers!
Watch the video below for Nolan's Full Story:
Please SHARE This With Family and Friends