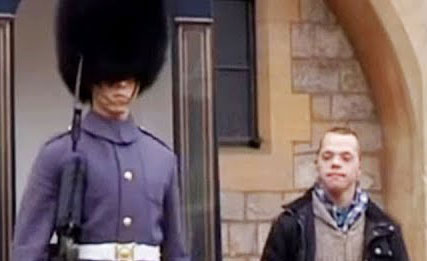 image via – youtube.com
Windsor Castle is one of the Queen of England's primary residences and every year thousands of visitors go to see it.  The picturesque fortress is protected by the Queen's Guard which consists of soldiers who have been charged with standing watch around the clock.  They are just as well known as the castles they safeguard and can easily be identified by their unique uniforms consisting of red tunics and black bearskin hats.
One young man named Sam had travelled to Windsor Castle as part of a web series he starred in along with his friends called "The Specials."  The show followed the lives of five young adults with Down Syndrome who lived in a shared house. It came out back in 2009 to rave reviews and went on to win a Webby Award for Best Reality Program. 
While filming the second season, Sam had taken a tour of Windsor Castle with two soldiers as his guide, Lt. Bragger and Sgt. Baggot-Moore. While walking the historic grounds they told him that they were headed to see the guard on duty and that he would not be able to interact with him, as it's their duty to remain silent while on patrol.
When they reached the guard, he stood stoically at his post wearing the iconic uniform and holding a rifle stung over his shoulder.  Sam went over and stood right next to him, just as many tourists do every day when they visit and wish to get a picture with the soldier. 
So long as you are respectful and don't get too close, you are permitted to take photos with the guard on duty, but if you bother them or get too close they will warn you by shouting they may take further action to put an end to it.
While Sam was standing near the guard, he was suddenly startled by the soldier stamping his foot loudly on the ground.  It did the job, and Sam scurried off back towards the two soldiers who were his tour guides and had a laugh with them. Had Sam gotten too close for comfort or did he stay next to the guard for too long to cause him to stamp his foot?  As it turned out, Sam didn't do anything wrong at all, the guard on duty was his younger brother Jack!
The year before Jack had joined the army and hadn't seen Sam since.  That was part of the reason why Sam went to Windsor Castle, so he could visit him and check out where he worked.  When Jack stamped his foot, it was likely his way of saying hello to his brother, since he is not allowed to talk to anyone while on patrol.  
Later on the two brothers had a proper reunion in the barracks and chatted about Sam's love life.  Jack encouraged him to pursue a relationship and soon after Sam started dating one of his housemates, Meghan.  The pair ended up dating for six years before Sam proposed, and she said yes.
Watch The Video Below For The Full Story:
Please SHARE This With Family and Friends