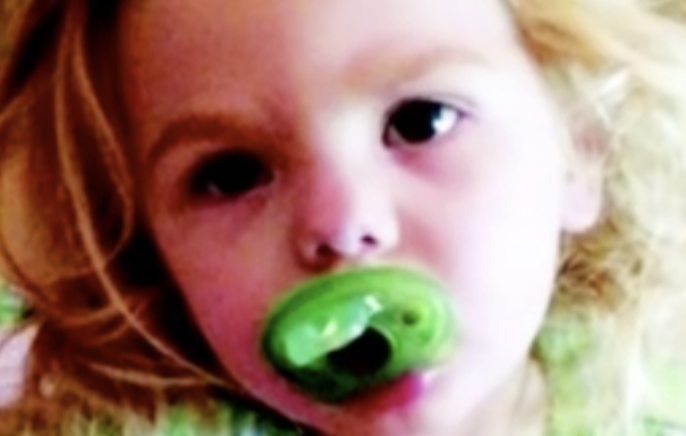 image via – youtube.com
The parents of little Vivian Keith, were in a children's hospital.  They had received the terrible news that is a parent's worse nightmare; Vivian had been diagnosed with acute lymphoblastic leukemia.  Each day Ginger Keith, Vivian's mom, would hold Vivian up to the window and they would both wave, like crazy, at the construction workers who were building across from the
hospital.
This group of ironworkers soon noticed Ginger and sweet little Vivian waving each day and they would wave back.  Greg Combs, one of the workers whom you will see interviewed in this video below, really began to think about what little Vivian and her mom must be going through.
One day he and co-worker Travis Barnes came up with an idea.  As Ginger reported to "Today" and "ABC News", she brought Vivian to the window to do their daily waving, and what they saw was a huge message spray-painted on one of the beams that read, "Get Well Soon".
They waved at Vivian and mom and kept pointing to be sure they saw the message. Ginger was so touched, that she took pictures, and sent them pastries in gratitude.
In the footage below you will hear Ginger talk about what this small act of kindness did for them, and Greg Combs talk about reflecting on his own kids, and tearing up with compassion and gratitude.
Once Vivian was out of isolation you will see these unlikely new friends meet, after touching each other's lives.
Please SHARE This Story With Family and Friends