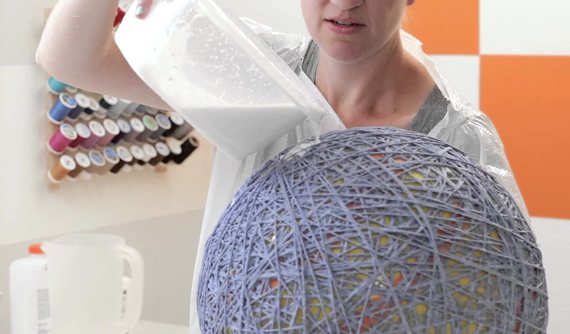 The most common thing that people usually use yarn for are items to knit; such things as scarves, sweaters and mittens.  Unless you are a crafty person like Dana.  I never fail to be astounded by how innovative and creative some people are.  I certainly never would have thought of making the creation you are about to watch, but having seen it's lovely outcome I can't wait to try it!
What Dana does with: an inflatable bouncy ball, cotton yarn or hemp cord, and basic school glue is truly athing of beauty.  What she creates is a yarn globe or lantern.  She shows us how to prepare the ball and glue, and then demonstrates the winding process of the yarn.  After she takes us through the steps which really look the FUN, she shows us how to turn our creation into an actual, usable lamp!
It's really easy to remove the dried yarn from the ball.  It's a thing of beauty on it's own.  Then with 4 items:  a hanging light fixture, lightbulb, clamp connector and a washer (available at any hardware store), she shows us how, within minutes, your colorful lantern becomes an amazing lamp.
I'm not  kidding!  It's an actual beautiful modern lamp that you'd be proud to hang in your house.  Let us know how yours comes out if you try it, and what you think about this amazing DIY, that comes from the Made Everyday site.
Please SHARE this video with your crafty friends and family on Facebook 🙂