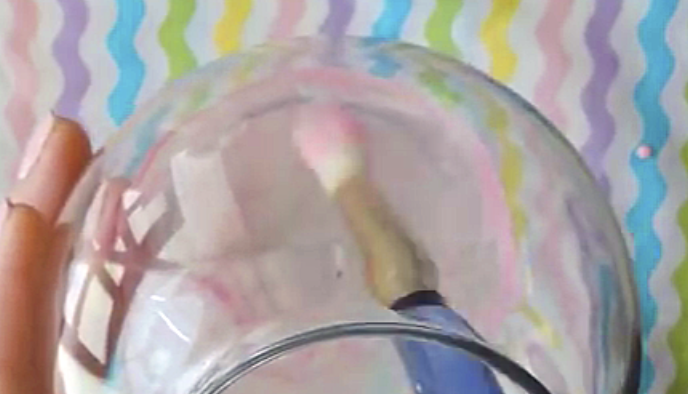 image via – youtube.com
Instead of buying the standard nightlights that are usually plain and ugly try making one yourself. It can be easily done with the help of this tutorial that shows step by step how to create a solar powered rainbow nightlight. The project is not too complex and easy enough for kids to follow and work through.
Also, it is extremely affordable to make these at home, the one shown in the video cost only $4, it may even be cheaper to make this than buying one at the store.  All you need is a crystal ball, small solar garden lights, a mini glass bowl, and glitter paints or extra fine glitter and glue.
The dollar store sells the mini glass bowl shown in the video and you can probably find all the other items there as well. If not, Walmart sells solar garden lights at a low cost and craft stores have all the glitter paints and glues. Start off by taking a solar powered strip piece from a garden light and glue it on to the bottom of the clear crystal ball.
Make sure the solar strip faces up and the ball or glass piece you use is clear so that sunlight can get through and charge it. Set that aside to dry while you paint and embellish the glass bowl. In this video the woman is making a nightlight for her young daughter and she has chosen to adorn it with a rainbow colored scheme.
To get the look she brushed a layer of glitter paint on the bottom and then added more rainbow colored layers up the sides. In between each color and coat she waited for the glue to dry so that the glitter didn't mix together. The finished bowl turned out beautiful and looks very pretty with an opaque, iridescent, rainbow finish.
To complete this project simply take the solar powered light piece, that was earlier glued to the crystal ball, and placed it on the top of the painted bowl. Place the light in a window or anywhere in sunlight and it will charge up during the day and glow through the night. It looks so neat and unique the way the glitter sparkles in the light and kids will love having it on at night.
Plus, it makes a great keepsake or thoughtful gift and is a nice decorative piece to place around the house that will keep you from stumbling around late at night! Watch the video for more detailed instructions and to get a clearer idea on how to make these yourself! 🙂

Let us know how yours turns out! Enjoy! 🙂
Please SHARE With Family and Friends