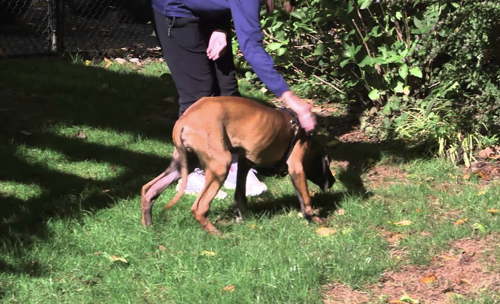 This story is heart-wrenching, whether you are a dog lover or not.  It is almost unbearable to report stories of such animal cruelty, but without shining the light on these horrendous acts, I feel that we would be contributing to the horror This video tells the story of Pocket who was incarcerated in a cage in a dog meat farm in South Korea.
Having spent his entire life in this metal cage, he had never experienced the normal things of a dog's life; no sunshine, walking on grass, chewing a stick and exploring… never even enjoying a bowl of water.  Thankfully his luck changed when he, and 100 other dogs were rescued by the Humane Society International, and brought to the United States.
Like any living being who had lived in such wretched, isolating conditions, introducing Pocket to a normal dog's life took encouragement and a gentle approach. Pocket's entire life had been spent in that metal cage, which made the outside world an overwhelming place for him to absorb initially.
What is so amazing about many dogs, once rescued, is that they are capable of learning to eventually trust and enjoy a normal, beautiful life, despite the horrible conditions they have endured. I shed a tear watching the video below, in which we see footage of Pocket hesitantly walking on grass for the first time.  His body language is one of fearful caution, as he is lovingly encouraged by his new family.
In this second video below, taken on day 2 of his rescue, your heart will be warmed by his progress in just one day.  Pocket has never played with another dog; he and his new pal gnaw on a stick together. Pocket is so gentle in his play.
Your heart will burst with joy for this animal who is getting a second chance to have a normal, loving life.
 Please SHARE this with family and friends