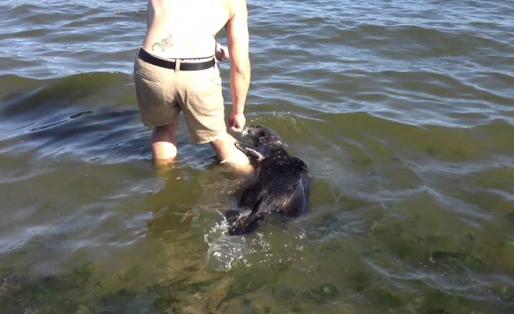 image via – youtube.com
A couple lucky tourists visiting the beach and sea had an awesome fortunate and surprising experience with an amazing wild sea otter on Vancouver Island in British Columbia, Canada! The once in a lifetime chance rendezvous happened in the seas of Cadboro Bay on the southern tip of the island near the province's capitol, Victoria, Canada.
The beach was pretty much empty except for a couple people who were happily snapping away, taking pictures of the beautiful picturesque bay, and filming some videos when a sea otter swam into view! Beachgoers naturally started filming the cute little sea mammal as he played around near the shore in his natural habitat.
Thankfully they did because they caught the moment when the curious otter decided to make friends with a man who was wading in the shallow, chilly Pacific waters nearby. The sea otter suddenly swam right up to him without any hesitation whatsoever and began to check him out up close and personal.
The adorable otter swam all around the guy, weaving in and around his lower legs and ankles. Before long he even appeared to be nuzzling the man, who reached down and gave the little guy a couple of friendly pats on the back.
The friendly mammal looked like he was loving the attention and acts just like an excited puppy dog would, he even gently nipped at the man's leg as they played in the water. The whole encounter lasted just a few minutes before the otter decided he'd had enough and headed back out to sea.
Nevertheless, the brief time that the man and otter shared together definitely left a lasting impression on everyone who was there at the beach that day. The remarkably friendly otter was truly a sweetheart and what an amazing experience it must have been for everyone involved!
Watch the footage below and let us know what you think!
Please Share This With Family and Friends 🙂