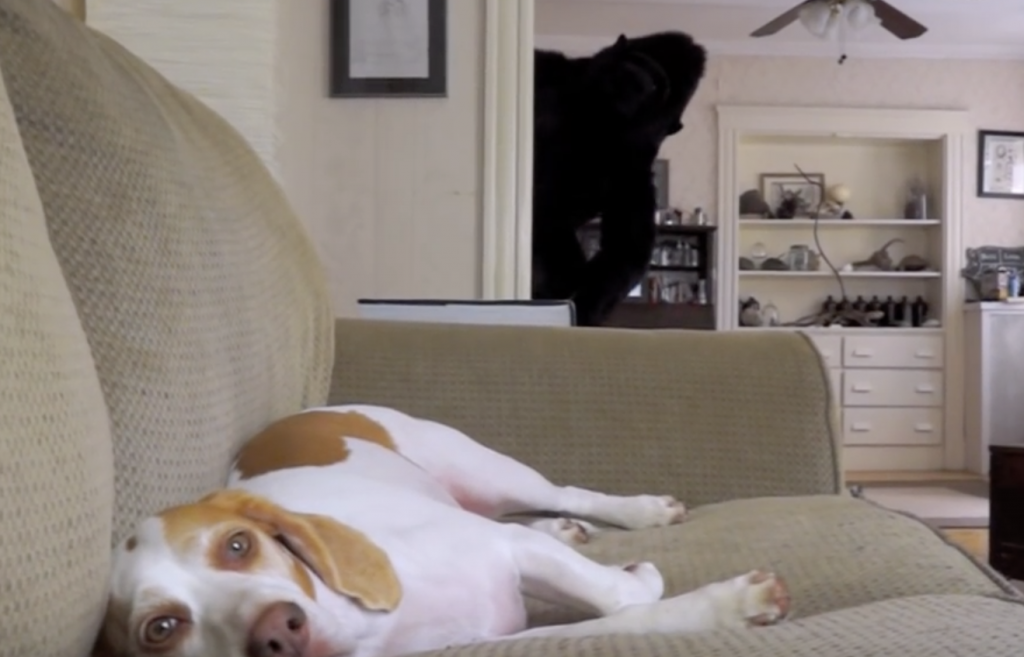 Lots of dogs absolutely love playing and cuddling up with stuffed animals and little Maymo happens to be one of them. The sweet lemon beagle was gifted a large stuffed animal gorilla by his owners and it was game over the minute he laid his cute puppy eyes on it.
As the video shows, Maymo was relaxing on the couch lost in thought when the plushy gorilla first came into his life. The giant black furry animal suddenly peeked around the corner and drew the dog's attention to it. His tail wagging quickly back and forth, Maymo immediately jumped up to sniff out his new best friend and give it sloppy dog kisses, it's the cutest thing ever!
One thing leads to another and we get to watch as the friendly beagle courts the object of his affections. For their first date the dynamic duo sit down to a thoughtful, romantic meal of freshly prepared bananas accompanied by a refreshing white wine. The dinner must have gone well because the next thing we see is Maymo out with his gorilla friend at the park enjoying a nice relaxing walk together. They end up back at his place and not wanting the date to ever end, he challenges the primate to a long game of Scrabble.
Soon afterwards the unlikely pair are spending all of their free time together. They do everything from watching movies and napping to cuddling up and grooming one another. Things move super fast and before they know it they're living together! You can just feel the love they share and their storybook romance comes to a head with the two furry soulmates celebrating their undying love by tying the knot. This is one love story that's truly a timeless classic!
You may be familiar with the star of the clip because Maymo is a very popular dog who brings happiness to millions of people across the world. His clever and endearing antics are shared on his Maymo YouTube channel and after viewing several videos it's easy to see why so many people love him. He's always up to something and no matter what he does, whether it's chowing down on carrots or fleeing in fear of Richard Simmons, he manages to be hilarious, adorable, and cute all at once! Check him out here and now and watch his love story unfold right before your eyes!
Please SHARE This With Family and Friends 🙂