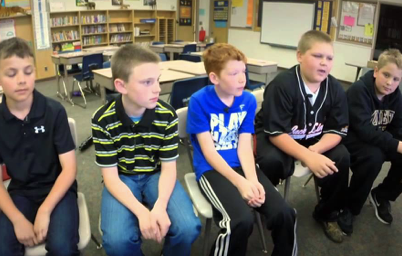 image via – youtube.com
Bullying is one of those issues in schools that seems to never go away.  Almost everyone who has been through the schooling system has been a victim or at least witnessed bullying occur first hand.  For those kids with learning disabilities they have a large target on their back for bullies.
It is hard for some kids to accept people who are "different" and it is oftentimes a lot easier to make fun of them and put them down instead of trying to understand them. Meet James a fifth grade special-needs student who is bullied almost everyday at school.  That is until, Jake, Gus, Jack, Tyler and Landon stepped in and decided to stop the bullying for good.
They made a vow to protect James and let him join their crew.  They all made a pact to become James' friend and they even chipped in to buy him a video game console Playstation. James now has a new confidence and outlook on life because of what these courageous boys decided to do for him.
He was once a kid who didn't like to go out with the rest of the kids during recess, or eat lunch in the cafeteria, but now this has all changed.  I am so happy that their are still good people in this world.  The future is sure looking brighter now.
Did you experience bullying in school?  Does your child have to face bullies on a daily basis? let us know!
Please Share This With Family and Friends