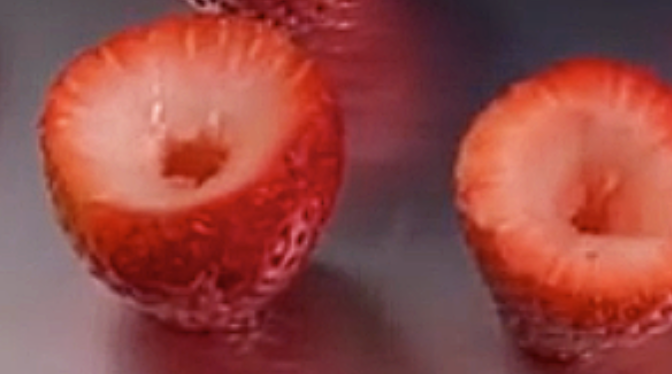 image via – youtube.com
What you are about to watch in the video below, is a truly healthy twist on a favorite dessert…STRAWBERRY SHORTCAKE.  It's definitely one of my faves, so I couldn't resist sharing this creative alternative…CHEECAKE-STUFFED STRAWBERRIES!!
I decided to make this last night for dessert, before passing this on, and let me tell you, it was absolutely delicious and took less than 20 minutes to make!  This is what you will need to make 16-20 cheesecake-stuffed strawberries:
1 pound of fresh, ripe strawberries, rinsed and patted dry – 8 ounces of softened cream cheese – ¾ cup powdered sugar – 1 tsp of pure vanilla – Optional toppings like graham cracker crumbs, crushed nuts, or shaved chocolate
The tutorial is easy to follow; watch how he uses a paring knife to remove the stems, leaves and core from each strawberry, to prep it for the cheesecake filling.  The filling gets beaten on a medium setting for 2 minutes, to a light and fluffed consistency; a piping bag will be the handiest way to fill the strawberries before adding your topping of choice.
Chill, serve and ENJOY!
Please SHARE this delightful recipe with your friends and family