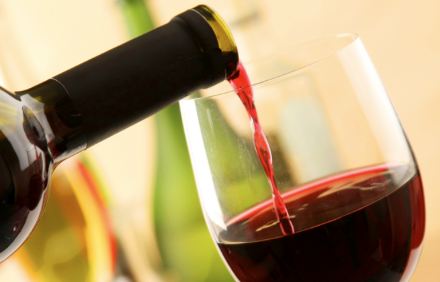 image via – shutterstock.com
Many people love pouring themselves a glass or two of red wine in the evening. For some, it's an after dinner ritual that helps them to relax and unwind after a long day. While many people assume that drinking alcohol before bedtime is bad and can lead to weight gain, new evidence suggests the opposite.
Capping off the night with a glass of red wine can actually be beneficial to our health and even help prevent weight gain. It may be contrary to everything you ever knew or thought about wine, but once you learn more about how and why, it all begins to make sense.
A main belief behind the idea that red wine before bed can help you lose weight and prevent gain is that it helps to suppress the cravings for sweet, fatty foods we tend to have at night. Drinking a little wine after dinner earlier in the evening helps make you feel more full and satisfied at a key time when most of us snack on junk food.
In addition, if you substitute a glass of red wine for a bowl of ice cream, cookies, or chips, you'll end up consuming fewer overall calories. Alcohol produces zero glucose and red wine scores very low on the glycemic index, which means it is not very fattening.
The National Institute for Alcohol Abuse and Alcoholism has even reported that "when alcohol is substituted for carbohydrates, calorie for calorie, subjects tend to lose weight, indicating that they derive less energy from alcohol than from food."
A thirteen year Harvard University study appears to back this up further. Researchers tracked 20,000 women and found that those who drank two glasses of red wine a day were much less likely to be obese. Compared to non-drinkers, they had a 70% reduced risk of obesity, so don't feel guilty about having that second glass of wine tonight.
A number of other studies have also shown that when we drink alcohol it signals in our bodies the production of an enzyme that helps metabolize and break alcohol down. Women produce less of this enzyme than men and therefore they end up burning more calories and fat to digest wine.
Red wine has a lot more to offer other than the aforementioned weight benefits. It's rich in antioxidants and those help combat the effects of harmful free radicals in our bodies, which damage and age our minds and bodies.
One specific antioxidant it contains is Resveratrol, which has been shown to boost heart health and longevity. Resveratrol also helps to protect against and prevent a variety of serious health issues, such as cell damage, Alzheimer's, and different types of cancers. Red wine also helps our bodies to relax and loosen up and there is evidence that it increases "good" levels of cholesterol (HDL).
In turn, it's not only good for our cardiovascular health, it's also great for our mental health since it helps lower stress levels. Less stress at night can also lead to better sleep and less out of control, stress-driven eating.
Of course, as is true with any type of food or alcohol, moderation is key. Consuming too much alcohol can easily lead to weight gain and opens you up to many other negative risks, including developing alcoholism.
Furthermore, if you are going to drink a glass of red wine at night and expect to lose weight, you have to forego consuming other calories. All in all, the main takeaway from this information is that a glass of red wine at night isn't going to hurt you or your weight loss and diet goals.
If anything, it may be of benefit to you, so don't hesitate to pour yourself a little.
Please Share This Story With Family and Friends 🙂