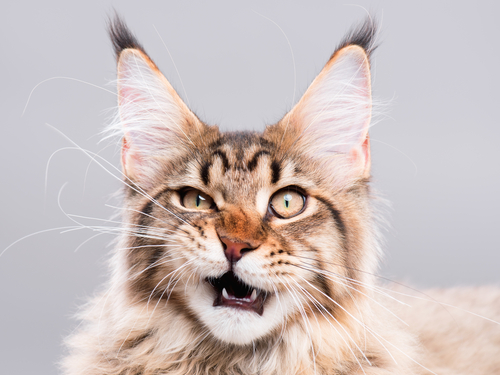 image via – shutterstock.com
Cats are truly one of the most interesting animals on planet earth. From the mighty king of the jungle the lion, to the tabby cat at your grandma's house, these animals give off a majestic vibe that almost no other animal on planet earth can match. People who have never had a kitty as a pet tend to believe these creatures are cold, weird, sneaky, sometimes scary and have no personality. Usually these people only ever had dogs or aren't into pets at all.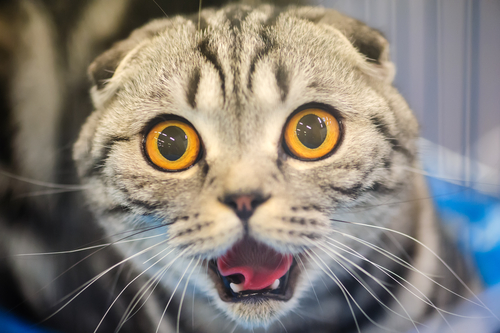 However, anyone who has had the pleasure of sharing a living space with a majestic feline knows that these anti-cat stereotypes couldn't be further from the truth. Sure, you aren't going to get the immediate unconditional love from a cat that a dog would give you after about two hours of hanging out. Cats will make you work a little harder for that unconditional love in return, but when they finally decide to let you into their inner circle, all that time it took to gain there trust is all worth it!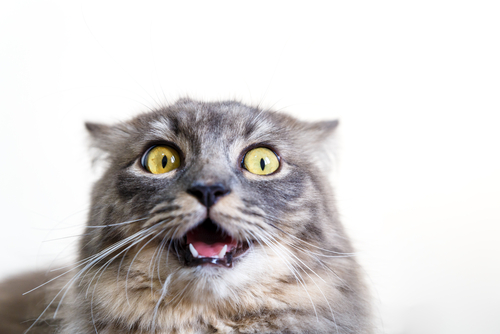 Many cats have a distinct and unique style or swagger in how they carry themselves or their special strut/style of walk. I had one cat who whenever he walked into a room he would lead with his back legs! He had quite the 'cat walk' and was bursting with immense personality.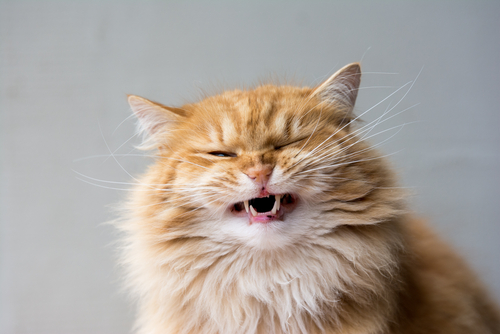 This video has to be one of the best cat videos of all time. It features a tiny kitten, who realizes that a scary intruder has broken into her house and is sitting on the living room floor.  The kitten is quite territorial and will not allow an evil doer to take over his and his family's property.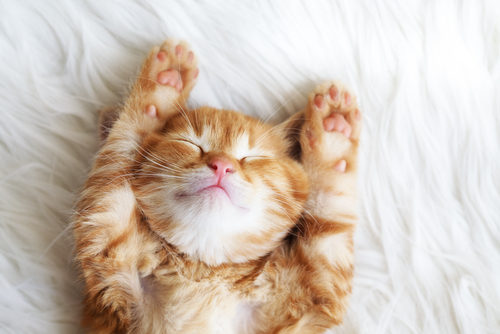 The kitten has the eye of the tiger and the heart of a lion as you will see when he comes face to face with the intruder. The only thing is, the intruder happens to be a small green ball, but the kitten is completely unaware of this.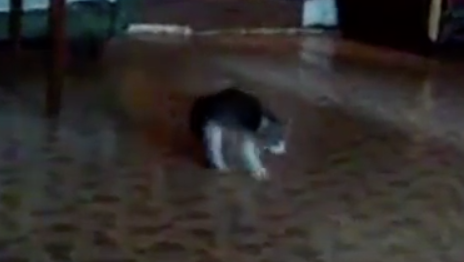 The brave, but freaked out kitten swipes and pounces at the evil intruder, but every time the ball turns around, the kitten runs for the hills.  This has to be the most intense cat video I have ever seen.  The kitty is such a brave little soul, I for one would have no clue what to do if I was in her situation.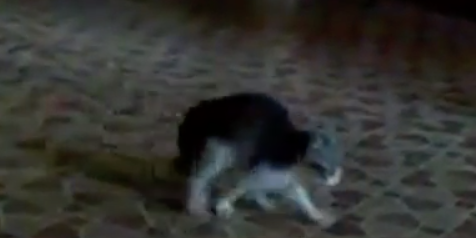 The video is set perfectly to some spine-chilling horror movie music.  So sit back relax, grab some popcorn and enjoy this epic and slightly scary kitty video! I may have nightmares for the next week.  Enjoy the video and be safe out there! Remember during this spooky Halloween season keeping an adorable kitty nearby at all times can keep you safe! 🙂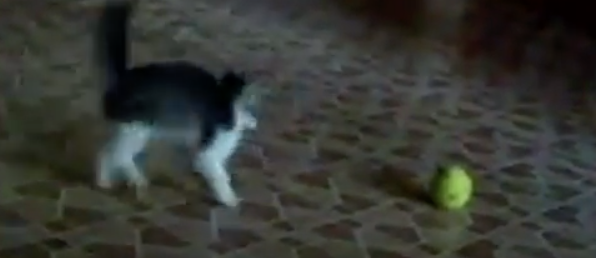 Watch the hysterical video below and let us know in the comments on the Sun Gazing Main Page if you want more videos like this one:
Please Share This Video With Family and Friends