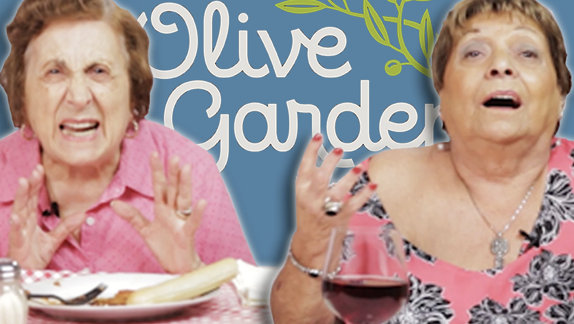 image via – youtube.com
Italians take their food seriously and this is especially true for Italian grandmothers. They have their own secret recipes that get passed down to them and can be traced back many generations in their families. In Italian culture food is central and long hours are spent in the kitchen preparing the perfect family meals.
Many restaurants have tried and failed to provide an authentic, gourmet Italian dining experience, but it has proved hard to do on a large scale. One restaurant chain that has been successful and has grown nationally is Olive Garden. The chain is famous for offering a low priced all you can eat bread sticks, soup, and salad deal, as well as other dishes they serve up.
Since no one knows Italian cuisine quite like an Italian grandma several of them were asked to judge and review some of the fare served at the well known chain restaurant, Olive Garden. The ladies sat down to a red and white checkered tablecloth spread with olive oil, salt and pepper, Parmesan cheese, baskets full of bread sticks, and plates heaped with different types of pastas.
Some of the dishes up for review included spaghetti and meatballs and eggplant Parmesan, which were received with different levels of enthusiasm. The Buzzfeed video has some great one liners and a few obscene remarks that only someone's grandmother could get away with.
They had a lot to say about the food and some of their feedback was good, other opinions were less favorable, and all of it was brutally honest and often hilarious. Check out the video to see some of the real and straightforward reviews of their Olive Garden taste tests, and be prepared to get hungry for some home cooked pasta!
Enjoy the hilarious video below!
Please Share With Family and Friends 🙂