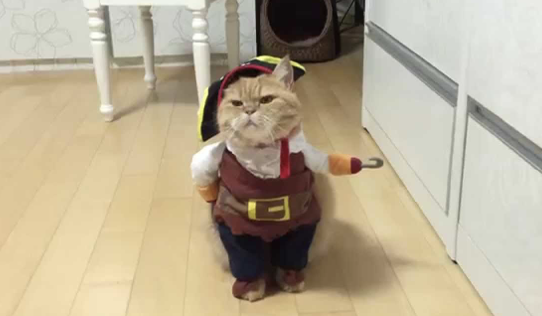 With Summer around the corner Halloween will be here before we know it.  Halloween used to be primarily for the kids.  Trick-or-Treating was the name of the game.  Kids still are all about the candy and their costume choices, but adults have grown more and more involved in the festivities just for themselves.
For the past few years there have been all kinds of creative makeup tricks on the internet, as well as last minute costume ideas etc.  As we all know people love to post their pets doing all kinds of things, and people love seeing the latest adorable animal thing.
Thousands of people buy animal costumes to dress their pets up in hysterical costumes. Adorable.. adorable… adorable and then there is the one you are about to watch in the video below!
I had to rewatch it three times to wrap my head around this cat costume.  It is both extremely weird and adorable.  It is one of the greatest illusions I have ever seen in an animal costume!
Please SHARE This With Family and Friends 🙂