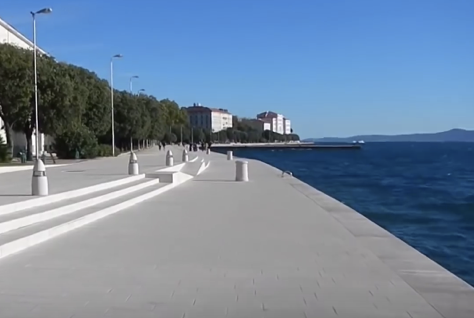 image via – youtube.com
In Zadar, Croatia, you can be serenaded by the water as you stroll down the boardwalk. There is an inventive architectural creation which allows notes to be played by the wind of the waves through a tube like structure.
Pipes underlie a set of large marble steps, making the sea organ expansive and majestic. Not quite melodic, the sound is still awe inspiring with its mystical feel and impressive wonder. It is almost as if the Adriatic sea is singing out loud, giving it a playful personality and intriguing communication.
Of course the skill should be credited not only to the artistic water, but to the architect who made the instrument, Nikola Bašić. He built the device as an attempt to beautify the city coast from its rebuild after the Second World War.
The organ provides a break in the monotonous concrete wall that was the sea front repair after devastation. It was opened on April 15, 2005 and is a destination for both tourists and locals to enjoy.
The polyethylene pipes and resonating cavity create a random, yet harmonious, tune. Not the only sea organ to be made, in 2006 it was awarded the European Prize for Urban Public Space, which is a biennial award started in 2000 to recognize public space projects.
Competitors include the Wave Organ in San Francisco, California, and the Blackpool High Tide Organ in Blackpool, United Kingdom.
Please Share This With Family and Friends