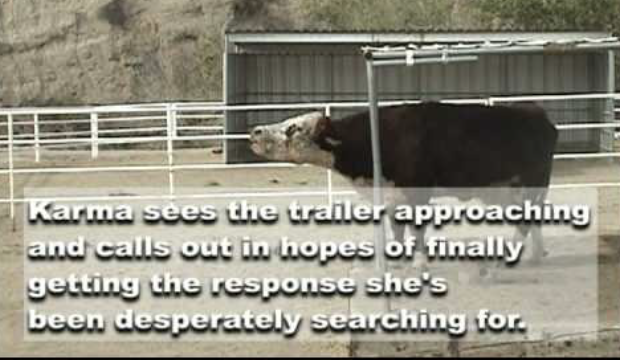 This is Karma the cow's story. Her rescue stemmed from an animal cruelty case in which her owner failed to provide her with any food, water, or shelter. She arrived extremely stressed out and malnourished to Gentle Barn and kept crying out, mooing all night long.
At first rescuers couldn't figure out what was wrong, but they soon noticed she was dripping milk and then found out she'd recently had a baby, something her cruel owner had failed to mention. The volunteers set to work, eventually located Karma's baby, and rushed out to pick him up. As soon as the trailer pulled up Karma instinctively sensed and knew that her newborn was inside of it.
Her reaction is both heart-warming and heart-breaking all at once. At first her poor calf stumbled and fell over from weakness, stress, and being away from his mother and her milk for so long. But he finally gets to her and as she checks him over he starts nursing right away, which is exactly what he needs.
You have to see the video to truly understand how heart wrenching and awesome it is to see mother and son reunited and safe. According to the Gentle Barn website, Karma is a great mother and the foundation managed to save 2 of her sons, the one you see in the video is one of them!
The Gentle Barn Foundation is dedicated to saving animals and educating children. Their staff and volunteers work tirelessly to help rescue and rehabilitate animals who have been severely abused, neglected, or abandoned. It started out as one woman's dream and has since grown into a sanctuary program with two locations in the United States.
The original one is in Santa Clarita, California and the second opened in Knoxville, Tennessee. There are currently over 170 animals including horses, cows, pigs, dogs, cats, chickens, and more, who call Gentle Barn home.
Every animal they rescue gets a second chance at life. They often take in some of the most severely abused ones and many of the animals living there suffer from sickness, deformity, old age, and blindness. They arrive scared and mistrusting of all humans and their rehabilitation immediately begins.
It involves both traditional and non-traditional medicine, physical therapy, and volunteers provide them with ongoing emotional support. Over time they slowly start to regain their trust in people and come out of their protective shells. Once an animal has been fully rehabilitated it becomes an animal ambassador.
At risk children from foster care, mental health facilities, group homes, the inner city, and schools come to visit the farm and interact with the animals. They're told about the animals stories and get to see first-hand how they overcame horrendous odds to become kind, gentle and trusting despite their past treatment.
The children often take away valuable lessons of compassion and courage, and for many it is a form of therapy in and of itself. Pass on Karma's story and help spread the word about the incredible work Gentle Barn does!
Please Share This Heartwarming Story With Family and Friends