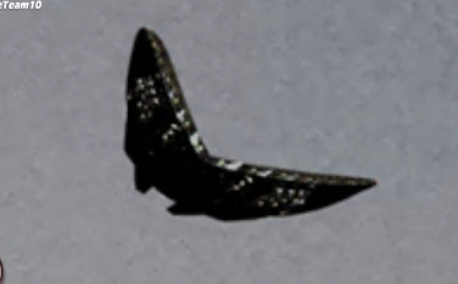 image via – youtube.com
When a father and son stepped out of an Ohio diner after eating dinner the last thing they ever thought they'd see was an alien spacecraft. But that seems to be exactly what Tom and his son Christopher (no last name was given) saw when they looked up at the sky on Saturday at around 7 p.m. in the evening.
The pair quickly whipped out cameras and were able to catch pictures and film of the strange flying object. The resulting images and recording have since been uploaded to YouTube and are being described as some of the clearest footage and evidence of UFO's ever captured.
The strange black craft appears to resemble a butterfly shape and when images of it are further enhanced details such as windows and lights can be made out. The two men who saw it claim that it made no noise and silently glided through the sky, and that two black military-type helicopters were also observed following it.
However, the helicopters were seen going quickly by about 5 minutes after they had filmed the craft passing and since they were driving in the opposite direction they were unable to film them as well. The YouTube channel that posted the incredible video, Secureteam10, is run by Tyler Glockner, a man who describes himself as a genuine alien researcher.
He said that he chose to call this a sighting of an alien craft, and not just a UFO, because of "the stunning detail where we can see the true structural characteristics of this ship." No other pictures of similar quality and detail have yet to emerge in regards to UFO/alien sightings and this one is the first of its kind.
Naturally, the footage has attracted the attention of skeptics, de-bunkers, and conspiracy theorists who have offered up a number of alternative explanations for the video. Some say it's man made and likely a top secret government project, others claim it to be the work of CGI animation, and some view it as an enhanced glider or drone type of unmanned craft.
Whatever the true explanation may be, one thing is for certain. It has managed to capture the attention and imaginations of countless numbers of people the world over, and has reignited interest in the long standing question of whether or not we are truly alone in this universe.
Take a moment to view the images and video and then decide for yourself if this is evidence of aliens or something else…
Do you think this is Real or Fake?
Please Share This Story With Family and Friends