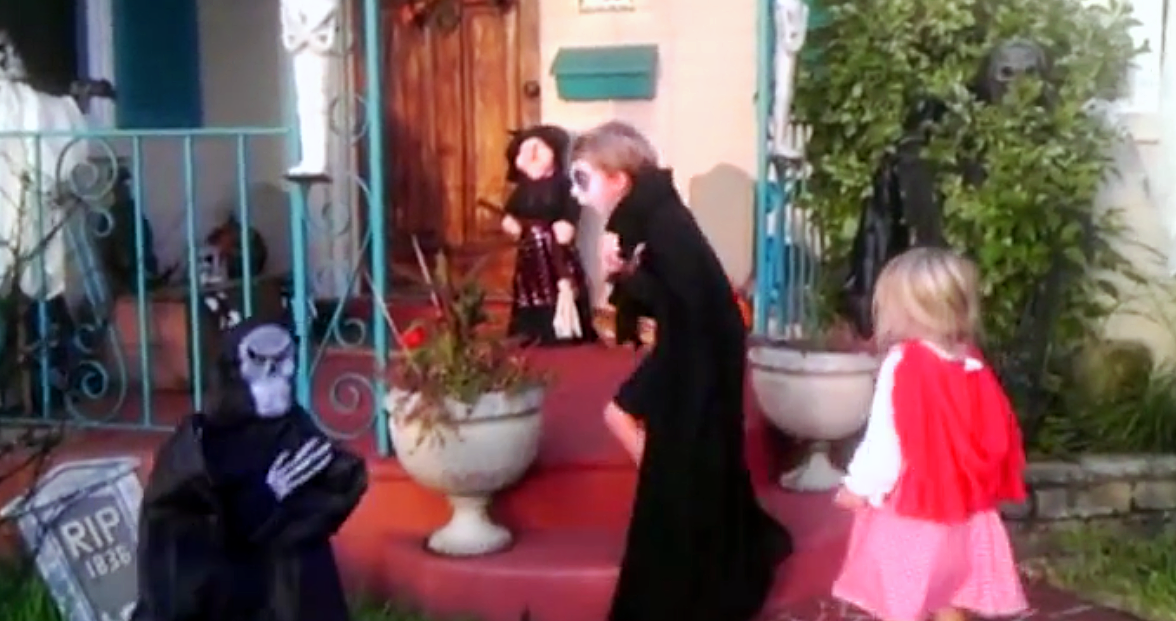 image via – rumble.com
The end of October happens to be many people's absolute favorite time of year. In the days leading up to Halloween both children and adults are busy preparing and making last minute alterations to their costumes and decorations. Whether you're looking to be scared or to scare others, there's something for everyone out there!
In fact, lots of people go all out with the spooky décor and scary accents. They're easy to spot because they are the ones whose houses are jam packed with skeletons, spiders, ghosts, witches, and interactive ghouls both inside and out. With each passing year there seems to be more and more hyper realistic, complex, and unexpected spooky accents that keep popping up. These decorations can fool just about anyone, including the people in this funny video!
The best part of the clip is hands down the little boy and his sister who are out trick or treating for goodies. As they excitedly approach the front door of a house a grave marker catches the boy's attention. Right as he's staring at it a grim reaper looking skeleton pops up from the grave! It takes the boy completely by surprise and he screams aloud in terror, but his little sister is completely unfazed by the whole thing. Instead of freaking out like her brother did, she steps up to the reaper and punches him square in the face right between his blinking red eyes! She is one tough girl who is not to be messed with!
Check out the adorable pair and all the rest in the video short. There are some really funny reactions that will definitely catch you by surprise, especially if you're easily spooked!
Please Share This With Family and Friends 🙂