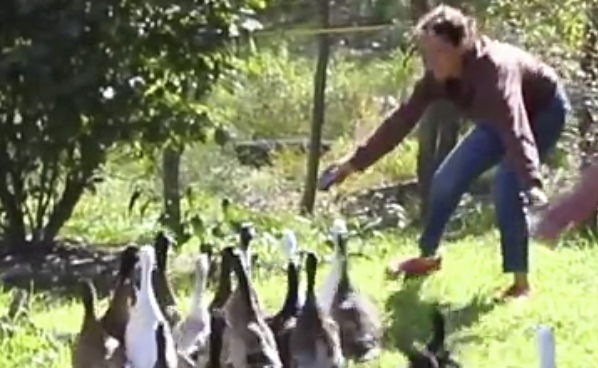 image via – youtube.com
A hoarder had kept a group of ducks caged in pens for years, without sufficient access to food or water.  Thankfully they were rescued by the Woodstock Farm Animal Sanctuary who came to the conclusion that these ducks had  never even been IN water. Imagine it's like living on earth as a human and never breathing air.
After being brought back to health, the rescuers had plans for getting these ducks acclimated to what should have been their natural habitat.  As you will see in the video below, the saying that "they took to it like a duck to water"… well not exactly! But nonetheless it's a true pleasure to watch these beautiful creatures in their natural habitat after years of neglect.
Watching this group of rehabilitated ducks experience water for the first time is at once, surprising and delightful. Ducks become "imprinted" to their mother as babies, following her in what looks like a choreographed formation.  They continue to follow each other in this group formation, as you will see…except when they encounter this strange thing called a pond.
Watch what happens in this uplifting footage below.  It will give you a great feeling all day!
Please SHARE This Video With Family and Friends