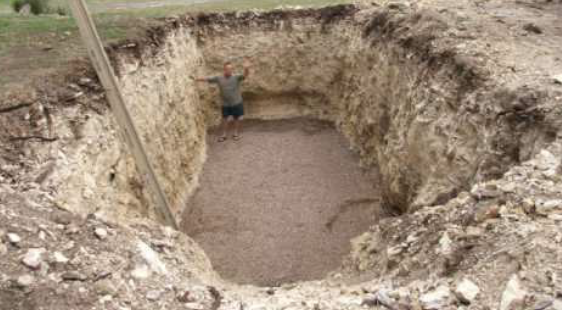 image via – youtube.com
In terms of DIY home improvement projects, this one takes the cake. It's a concept that's catching on fast all across America and many a homeowner would love having one of these in their own backyard. It's an underground room built right into the Earth so that when completed it's hardly even visible.
You can use the extra space for whatever you'd like and turn it into an underground shelter or a storage area for food and wine, the possibilities are endless. Wayne Martin constructed one himself in his backyard and recorded each stage of the process so that anyone could see what it takes to make one.
It takes a lot of muscle, hard work, and it's definitely not for beginners but the challenging project can be highly rewarding and last for years, if it's done right. Here's what he did…
First, he bought a 20 foot shipping container for a couple thousand dollars and sealed off the doors before installing a smaller, inward swinging door on one end. Next, he dug a large hole in the ground that was big enough for the container to sit in and left enough space all around it for adding in extra supports later on.
The next step he took was hiring a septic company to safely do the heavy moving and placement of the container down into the hole. With the box in place, he moved on to the entry way and put in concrete steps that gave him access to the underground door.
After a little more dirt removal it was time to reinforce the underground room. Even though the container is made out of metal, it's very thin sheet metal, so it's not as sturdy as most people think. If he were to simply pile on dirt it'd buckle under the weight and over time the entire thing would rust through and collapse.
That's why Wayne reinforced the container by building a separate framework around it, upon which he placed heavy duty corrugated metal across the top. To strengthen the entry opening, he welded re-bar supports around the rim before putting down a row of cinder blocks and filled them with concrete.
Wayne also had to make the space livable and to ensure proper ventilation he installed two 12 inch air vents at each end. Several smaller PVC pipes were also installed to run wires and utilities through. With all that out of the way, the project was ready to be covered with 6 inches of poured concrete.
Then he finished the steps and filled the area back in with quality dirt so that he could eventually plant some trees and plants on top of it. There were also a couple of cosmetic and safety-related things left to do, like stuccoing the rock walls near the door and adding a handrail or some type of barrier around the entrance edges, but the major building was done.
All he had left to do was build whatever he wanted inside and he chose to turn it into a wine cellar with plenty of storage space, racks, wood floors, and overhead lighting. By the time he was finished the only visible part remaining was the entryway into the ground.
If a person were to glance over the area they'd never know what was in his backyard! The final cost of Wayne's wine cellar project ended up being $12,500 for materials and hiring a couple of outside contractors. However, he did the majority of the work himself and used his own tractor, so that kept the cost down a lot.
Have you ever seen anything like this? Let us know!
Please Share This With Your Family and Friends