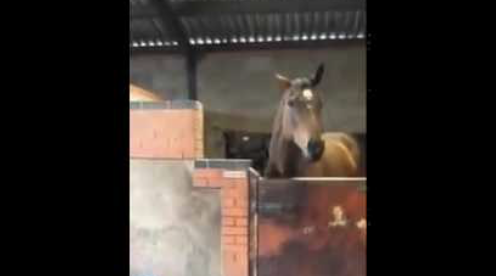 image via – youtube.com
No matter what type of animal our pets may be, they all have their own unique quirks and personalities. Whether it's a dog, cat, hamster, bird, horse, and so on, pet animals are always finding ways to make us laugh and love them even more. Some animals even take on and adopt human-like traits, such as dogs who sing and howl along to music and horses that dance!
Which is exactly what one sweet horse named Cheeky was captured on tape doing. He and his owner, Emma Jones, were hanging out in the barn one beautiful afternoon in Worcester, England. They were relaxing and spending some quality time together when all of a sudden the hit song "All About That Bass" by Meghan Trainor came on the radio.
That was Emma and Cheeky's jam and the beautiful chestnut brown horse couldn't help himself, he had to rock out to it! Emma started their duet off and began dancing near Cheeky's stall, then a few second later she pointed and handed the dance floor over to him.
Cheeky was ready and rearing to go, he immediately started boogieing down and was shaking and bobbing his head like a pro. The two take turns dancing and having the time of their lives, it's the cutest thing ever and perfectly timed. Cheeky certainly lived up to his name that day!
Ever since then, the video of the pair horsing around quickly went viral and captured the hearts and attention of people all over the world. You don't need to be a horse lover to appreciate this clip. It'll put a smile on your face and make you wish you had a horse of your own to love… and dance with!
Enjoy the video below!
Please Share This Adorable Video With Your Family and Friends 🙂