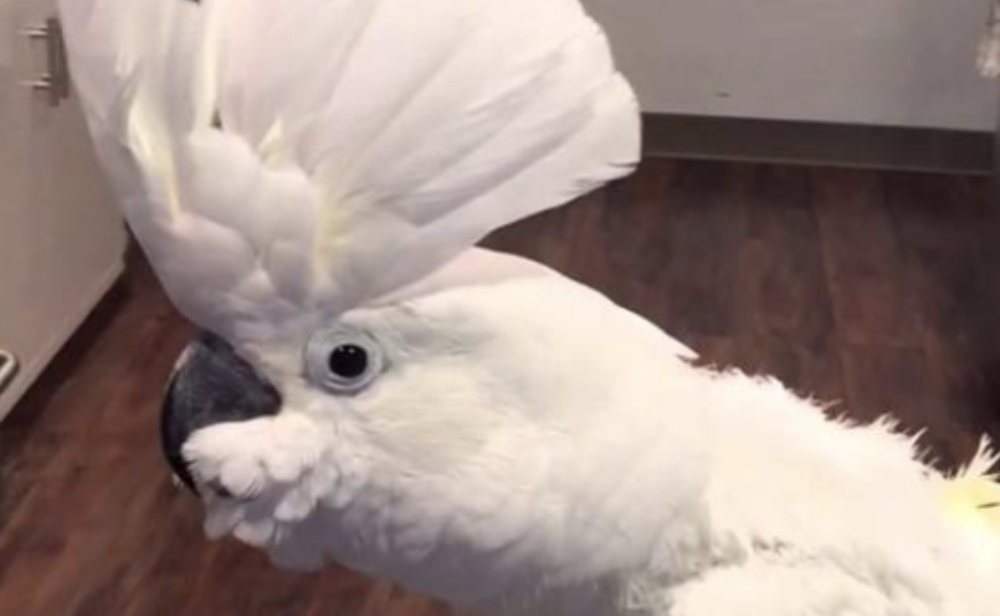 image via – facebook.com
Parrots are among the smartest species of birds in the world. The sometimes colorful, always clever, birds have long captured the imaginations and hearts of people everywhere. They are often quite playful and fun to interact with, and much more complex than a typical, average bird. In fact, parrots are anything but simple and they require a lot of attention, love, and training to truly thrive and be all that they can be. The beautiful snow white cockatoo in this video is proof of how energetic and fun loving parrots truly are.
Cockatoos are a sub-species of parrots and are recognizable by their less colorful plumage and showy head crests. The one seen here is named Louie the cockatoo, and he's happily rocking out to the 70's hit "Shake Your Groove Thing" by Peaches & Herb in this entertaining clip uploaded by Teresa Buxton to YouTube.
The boogieing bird bobs and dances to the catchy tune while his female friend cheers him on from off camera. The sprightly little fellow dances to the disco beat just as good, if not even better, than the dancers on Soul Train! He struts back and forth while pulling off some sweet moves and it's awesome to see this bird's energetic, hippity-hoppity display.
It's safe to say this parrot has a superb natural talent and excellent dancing abilities. At several points Louie raises his stunning head crest and fans it out to show it off completely in all it's glory. He seems to be having a fun time and appears to get really into the music.
His bird dance will make anyone smile and brighten the day! Interestingly, cockatoos love to dance and the beautiful birds share something in common with music history. They bear a striking resemblance to the king of rock and roll, Elvis himself, with their prominent feathered head crests.
The crests look like the popular 1950's men's hairstyle, the type that Elvis rocked, called the pompadour. All 21 species of cockatoos, which are parrots, have the movable head crest which is usually raised when the birds come in to land or when they are aroused.
Going off that information, it's likely that Louie the cockatoo was excited by the music and he just had to rock out to it. It seems like he even manages to keep pace with the tune and overall he puts on a great show!
Please Share With Family and Friends