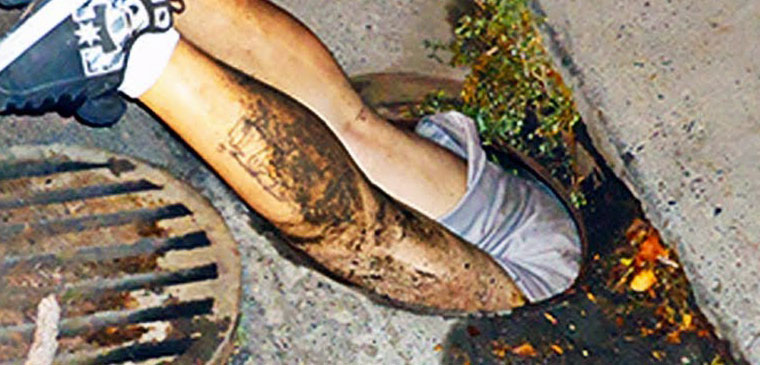 image via – youtube.com
When Hannah Siler's cat went missing, she didn't waste a beat and immediately went out looking for it.  The 12 year old girl from Pascagoula, Mississippi was desperate to find her kitty and if you've ever had the misfortune of having your cat going missing, then you know the pure heartbreak that goes right along with it.  You will look anywhere and everywhere, after all cats are masters at hiding and can squeeze into the strangest, tightest of places.
As she searched around the neighborhood, something drew Hannah to a nearby storm drain.  When she stooped down to look inside the dark hole, she saw two yellow glowing eyes staring right back at her.  They were certainly not cat eyes, they belonged to a seven foot long alligator instead!  
Alarmed at the strange sight, Hannah screamed aloud in surprise  That drew her stepmother, Brooque Snow, who came running out to see what the matter was.  When Brooque first peered down into the drain she couldn't believe her eyes, the alligator looked huge, and she had to have a second look before she could believe what she was seeing.
Once the initial shock had worn off, Brooque snapped a quick picture of the strange sight and notified the authorities.  Minutes later animal control officers showed up and they worked to quickly block off any exits so that the gator couldn't escape.  The men worked to wrangle the animal out of the drain and when they finally pulled the twisting, feisty gator out they realized it was too big for the two of them to take on alone.  
They needed additional professional help, so they called in trappers from the Mississippi Department of Wildlife and Fisheries who managed to finally subdue and remove the alligator from the storm drain.  When they pulled it out, they noticed it was covered in bloody patches from its time in the sewer. No one could be sure how long it had been stuck and if it hadn't been spotted by Hannah, it surely would have died down there.  
After holding the stressed alligator for observation, and giving it time to heal, it was released into a nearby river outside the city and away from people.  It turned out to be the best outcome for everyone involved, gator included.
Watch The Video Below For The Full Story:
Please SHARE This With Family and Friends