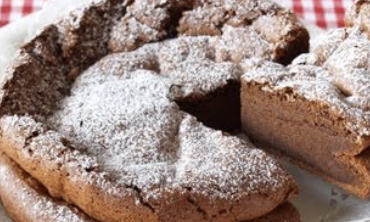 Have you ever wanted to bake up something delicious but didn't make it to the kitchen because you really did NOT want to clean up the mess afterwards? Baking often has messy side effects to it, with all the powdery flour and sugars, sticky butter coated bowls and blenders and spoons, and batter that too often ends up being whipped out of the bowl it was mixed in.
Set those unpleasant memories aside and replace them with thoughts of this incredibly simple and easy to make 2 ingredient chocolate cake. It's a whipped, meringue-type of cake that ends up tasting rich and decadent yet also light and sweet. In other words, it's basically perfect, and it will leave you with minimal mess to deal with.
This recipe makes 6 servings and each one contains 200Kcal. It takes about an hour total to prepare and bake. You can serve this right away once it's cooled off from being in the oven, chill it in the fridge for later, or keep it in the freezer for up to a week. The ingredients are easy to remember, 3 eggs and 3 bars of chocolate, or enough to total 165 grams or 5.8 ounces. Preheat your oven to 338 degrees Fahrenheit then separate the egg whites out into a large bowl.
Refrigerate them so that they're cold for when you later use them, which will make the meringue much more stable. Break the chocolate into pieces and melt it in a large bowl using a double boiler over hot water, then allow the chocolate to cool and whisk in the egg yolks.
In a separate bowl whip the egg whites with an electric mixer until firm peaks form and you can turn the bowl upside down without any of it sliding out. Add about 1/3 of the meringue to the chocolate and blend it together well with a whisk. Add in half of the rest, mix well, and follow with what is left.
Take a round cake pan, line it with parchment paper, and pour the batter into it. Before you put it in the oven pick it up and lightly drop it on the counter to get any air bubbles out. Bake in the preheated oven for 30-40 minutes, remove and allow it to cool completely before serving.
To finish off the cake you may want to brush it with syrup. It's highly recommended that syrups or liquors such as brandy, rum, or kirsch are used, along with a light dusting of powdered sugar. Serve a slice of it alongside ice cream, fresh fruit, or with a dollop of whipped cream and a cherry on top. Pass on this recipe with friends and family, so they too can enjoy the tastiness and joy that this cake can bring them.
I tried and made this myself and got rave reviews from everyone who tried a piece. It was worth the mess and the extra mile I'm going to walk tomorrow.
Please Share This Recipe With Family and Friends 🙂