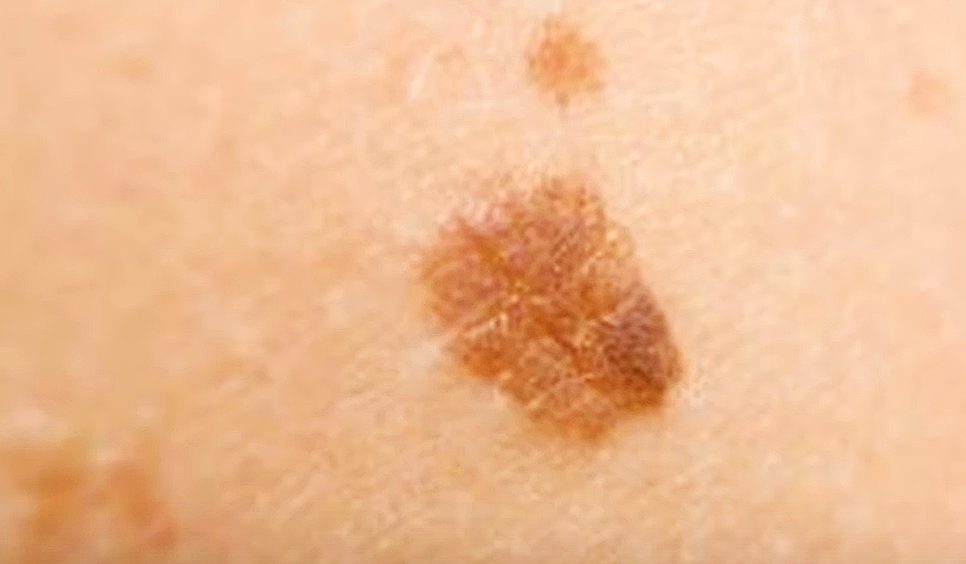 image via – youtube.com
Brown spots that appear on the skin, are something that everyone eventually finds lurking, well after a tan has disappeared. Even if you haven't been a sun worshiper at times in your life, exposure to the sun will leave these "age spots", which can occur at any time in life.
In the VIDEO you are about to watch below, Drew of the YouTube channel "Fitlife", explains that these age spots tend to appear in greater amounts, most commonly seen in people over the age of 50. When you are younger, they may not be as unsightly, but as we age they become more bothersome. With the increased use of tanning beds amongst younger people, in the last 20 years, these brown spots have been appearing earlier in life for many.
The culprit, of course, are the ultraviolet rays emitted from the sun, that produces a tan. In actuality our bodies produce melanin which allows the skin to tan, as an adaptation or armor that protects the deeper layer of skin, Drew goes on to explain. While the age spots are usually harmless, these dead dry patches of skin are stubborn, even resisting many laser removal treatments.
So, here's the GOOD NEWS…as Drew says, "Food is Medicine!" A NYC nutrition expert, Dr. Doug Willen, D.C. has come up with an incredibly simple way of removing these stubborn brown spots completely. Two foods that you probably already have in your kitchen do the trick when combined: ONIONS and APPLE CIDER VINEGAR! Watch the video below, which explains why this solution is so effective, and illustrates how to extract the juice from a sliced onion and blend it with Apple Cider Vinegar. Drew demonstrates the process and the exact proportions and amount to apply on a cotton pad once daily. You will see results within 2-4 weeks! Then be sure to cover yourself in sunscreen on exposed skin every day, to prevent these unsightly age spots from reappearing, and preventing more serious sun damage that could be more serious.
Please SHARE this Effective "recipe" for ridding your body of age spots with your family and friends