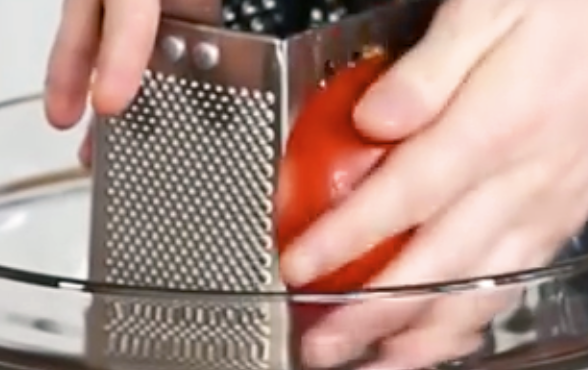 image via – facebook.com
I consider myself a "foodie" and what makes a dish outstandingly delicious for me, is when the taste is truly FRESH.  I enjoy preparing food for myself and my family, but I don't want to spend  hours cooking…it just leaves me exhausted and without an appetite.
Most people enjoy a simple pasta and tomato sauce, and have great memories (if you are Italian) of Grandma's Sunday dinners. They always included a marinara sauce (for the pasta) that had to be stirred and simmered for hours to reach the peak of perfection.
I am always looking online for simple recipes that use really fresh ingredients, and can be completed quickly.  When I came across the video that you are about to watch below, Food & Wine's Justin Chapple astounded me, with a way to make a fantastically fresh, delicious tomato sauce that requires NO COOKING!
All you need is a box grater and ripe, good quality tomatoes. The bonus is that the grater actually saves you from having to peel the tomato.  Watch Justin, add a few ingredients to enhance the taste and consistency, and then pour it on the cooked pasta.
When I watched his preparation, which he does with such simple pleasure that exudes his love of fresh food, I was inspired.  I made it last night for my husband and kids and all I could hear was a resounding Yummmmm!
Let us know how yours turns out! Bon appetite! 🙂
Please SHARE this amazingly simple and delicious recipe with your friends and family!