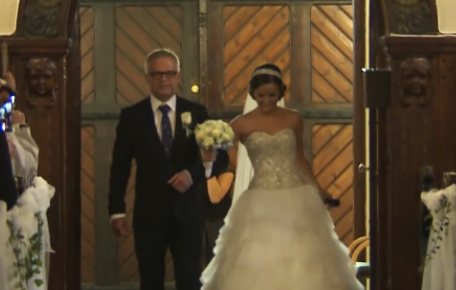 image via : youtube.com
We have all seen many videos from weddings that show something funny, clever, unexpected or extremely touching that gets shared online, and becomes viral on Facebook.  I've seen many of the choreographed dances with father of the bride or mother of the groom.
There have been wedding parties taking a picture on a small bridge and falling in a lake!  But I've never seen one like the footage you are about to view in the video below.
It is rare to wow your guests, and incorporate it into something really meaningful, that no one witnessing it will ever forget.  The amount of thought, creativity and love that went into this walk down the aisle is both impressive and heartwarming.  It gave me goosebumps and I shed more than one tear.
The doors open and the beautiful bride Maria, is on her loving father's arm.  They start the walk towards her beloved, Ronny, who awaits his bride eagerly. He has absolutely no idea, as he smiles broadly, what his bride-to-be is about to do.  His emotion, as well as everyone who has come to celebrate, is palpable.
Watch the video below! I hope you enjoy this truly beautiful moment as much as I did!
Please SHARE This Story With Family and Friends