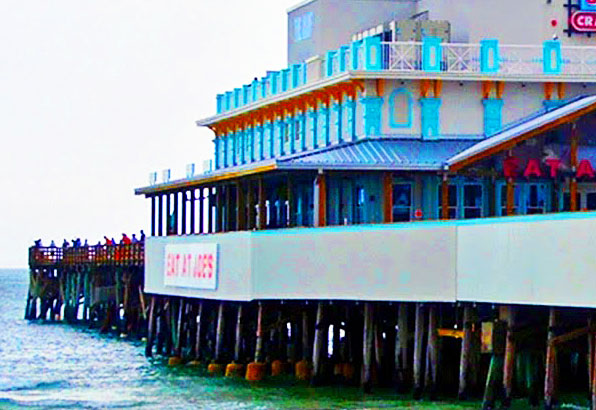 image via – youtube.com
Anyone can be a good Samaritan, all you need to do is act selflessly to help someone else out, especially a person who is in distress.  They are the people who react naturally to try and save others in emergency situations and who don't hesitate to lend a helping hand. Nineteen year old Hanna Pignato is such a person and once you hear her story, you'll understand why she fits the definition of a good Samaritan.
Hanna had been waiting on tables at around 7 pm while working at Joe's Crab Shack in Daytona Beach, Florida when she suddenly heard a woman screaming outside.  She headed out of the restaurant to see what the matter was and realized the woman's young son was struggling to stay afloat in the water. A rip current had knocked the 8 year old off his boogey board and was taking him out to sea, yet despite all the people who were on the crowded beach, no one seemed to be willing to help. 
Hanna sprang into action and ran down from the rooftop deck to the Main Street Pier below where she handed off her apron and phone to a customer.  Without hesitating she jumped off the pier into the water below, she didn't even stop to think, and when she reached the bottom all she could feel was immense pain and pressure.  Unbeknownst to her, the spot where she had jumped from was right above a sandbar and she'd landed in less than three feet of water, causing her to break her back and foot. Despite the waves of pain washing over her, she still tried to swim towards the boy and didn't stop until she saw someone else come to his rescue.  
At this point it was now Hanna who needed to be rescued, she too had gotten caught up in the rip current and her broken foot and back were making it nearly impossible to swim.  She was thankfully rescued from the water and immediately taken to a nearby hospital. After examining her injuries the doctors told her the terrible news; she had broken the top of right foot, her right heel, and had fractured her lower back in three places.  
Despite her selfless efforts to save a young boy she didn't even know; she was now facing the sad reality of her situation.  Hanna would be unable to work or even move much for the next couple of months and her medical bills alone were over $75,000. She didn't have health insurance and on top of that she lived in a third story walk up.  Her friends started a Go-Fund me page to help cover, or at least offset, the costs and she's grateful for whatever help she can get.  
In the end, Hanna says she has been awed and amazed at the overwhelming messages of love and support she has received from people all over the world who've heard her story.  All she was trying to do that fateful day was save a child who needed help and despite what happened to her she doesn't regret it, and that's why she's a good Samaritan.
Check Out The Video Below For The Entire Story:
Please SHARE This Story With Family and Friends