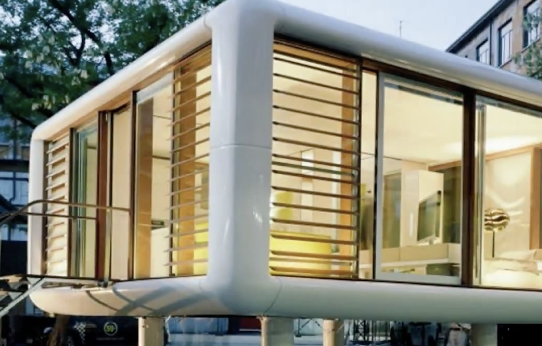 Have you ever dreamed of living in a penthouse apartment? Living high up above a city on top of a building would give you an amazing view of everything below, and much more natural light would shine in your windows.
For many, the expensive cost of such a space keeps them from ever living the top floor lifestyle. However, there is an alternative solution to that issue thanks to Werner Aisslinger. He is an architect who designed the Loft Cube, a compact living space that can be easily added onto an existing rooftop, or wherever your heart desires to live.
Aisslinger's Loft Cube design stemmed from his vision to create a rooftop community after he had looked out over the city of Berlin and noticed all the empty, flat space not being used on top of the buildings. What he came up with was an idea to build a compact space which could easily be added onto any existing rooftop. That idea manifested into the Loft Cube, an affordable, sleek, and modern living space.
The incredibly neat and compact design measures in at a total of 430 square feet. That small footprint holds all a person needs at a price most everyone can afford, they start at around $40,000. Not only are the spaces modern and sleek, they are comfortable and fit almost all the amenities found in much larger spaces or homes.
The cube can be built on location in as few as 5 days, and it can be disassembled and removed just as easily in even less time than it takes to build, 1 day. There is no need for a foundation because it rests on 4 legs, which are adjustable to accommodate uneven surfaces or ground. It's basically a portable house and can be take and set up practically anywhere.
The interior of the cube is comfortable and divided with adjustable panels into 4 separate areas, a living room, kitchen, bathroom, and bedroom. The entire home is built to be self-sufficient since it is portable and off the grid. Everything from the air conditioning to the entertainment system is built into the cube and controlled by a master panel with the touch of a finger.
If your thinking that since the cost is so low then they must have skimped elsewhere, they didn't. The built in appliances are quality, high end pieces and all of the fittings and minute details are meticulous and exact. The Loft Cube is a durable high tech home, and it was both designed and made to last a lifetime.
Please Share This With Family and Friends