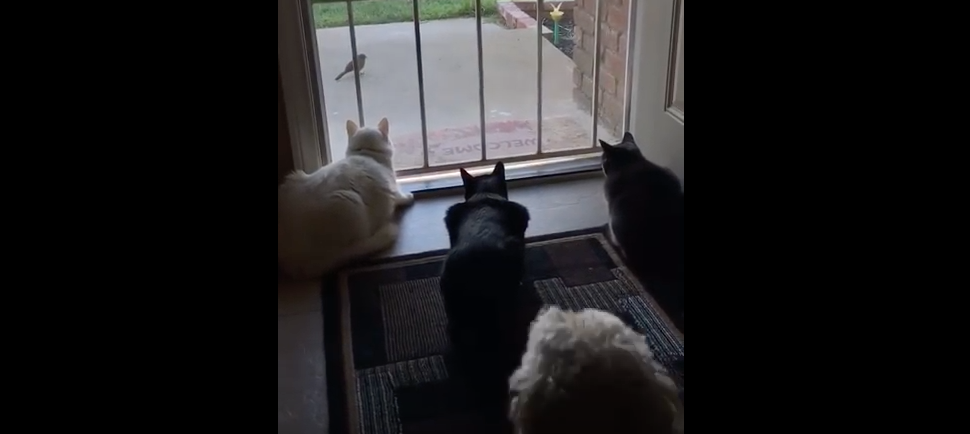 image via – youtube.com
This clip perfectly captures three well-known characteristics that seem to always ring true about cats. One is that they're extremely curious creatures. Two, felines are easily spooked when something catches their attention. And three, dogs and cats operate on completely different levels!
The home video was captured by the loving mother of three adorable kitties. She happened to catch them all staring intently out the door at a little bird who was hopping around outside on the front porch. The one white and two black cats were completely focused on the sight and absorbed in stalking the bird that they had tuned out the rest of the world around them.
It was while they were mesmerized by the tweety bird that a little curly haired dog comes along. He strolls into view and notices that they're all looking at something so he naturally heads over to check it out. He sneaks right up behind the three kitties and when they finally notice, he scares the bejeezus out of the poor little guys! They all flip out, jump straight up in the air, and then run off to hide. The scaredy-cats waste no time in skedaddling on out of there as they scatter every which way and bolt off to safety.
The moment is proof that if there's anything pretty much all domestic cats universally dislike, it's being caught off guard when they're hunting, especially if it's by the family dog! They seem to go absolutely nuts whenever they are truly spooked by something. Felines are naturally curious animals who are known to become easily frightened and the three hilarious cats in this short video are no exception to the rule.
Please SHARE This Hilarious Video With Family and Friends Who Need a Smile Today 🙂