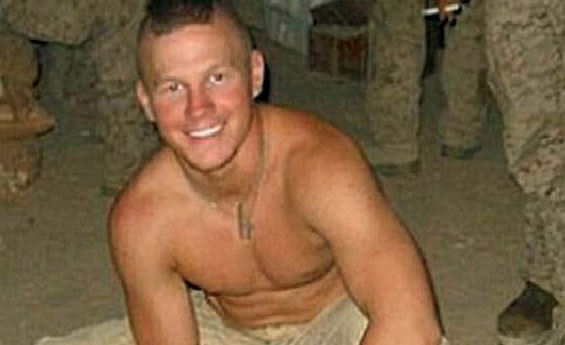 image via – youtube.com
When someone enlists in the armed forces, they can never truly know where the future will take them.  Once basic training is over many find themselves far away from home overseas and some end up in combat. 
William Kyle Carpenter was a soldier who had been deployed to Afghanistan in 2010.  He had joined the US Marines after graduating high school and knew full well the risks and danger his job and position entailed.  William and his squad had been sent to Helmand Province, Afghanistan's most dangerous area due to high insurgent activity, with orders to set up a patrol base in a small village.  
On the morning of November 20, 2010, the group was attacked by the enemy who used rockets, small arms and sniper fire, as well as grenades against the soldiers.  William had taken position on a corner rooftop along with a fellow marine when a grenade was suddenly tossed onto the roof right near them. Having only a split second to react, William threw his body over the grenade to shield his friend from the blast.  
When the grenade went off it tore through Williams body and wounded him severely.  He suffered multiple face fractures and fragment injuries, a third of his lower jaw was missing, his lung collapsed, and his skull was fractured to the point he needed brain surgery.  His brave action ended up saving the life of his fellow marine, and he was immediately evacuated to the nearest hospital.  
When he arrived at Camp Bastion, he had been declared PE, patient expired, meaning that doctors didn't think he'd survive his horrendous injuries.  Though all the odds were against him, William did survive. He had lost his right eye and most of his teeth, he had scars all over his body, but he had saved a friend's life and somehow pulled through.  After over 40 surgeries and countless hours of rehabilitation it was only through sheer willpower and determination that he overcame his injuries.  
On June 19, 2014, President Barack Obama awarded Corporal Carpenter with the Medal of Honor at a White House ceremony.  It's the highest personal military honor that anyone can receive and is only given to those who have acted with extraordinary bravery and valor.  When he threw his body on the grenade and sacrificed himself for a fellow marine, he went above and beyond the call of duty that day. 
The fallout from his injuries meant that William could no longer serve as a soldier.  He was medically retired from the army and moved on with his life. He attended the University of South Carolina where he received a degree in international studies in 2017. 
Despite his physical and emotional scars, he tries to see the positive side of life. The very fact that he is alive and can walk around freely today is reason enough for him to be okay with what happened.  Rather than live with regret, he lives with acceptance of what happened and is just happy that both he and the friend he saved that fateful day are alive and well.
Watch the video below for the full story:
Please SHARE This With Family and Friends