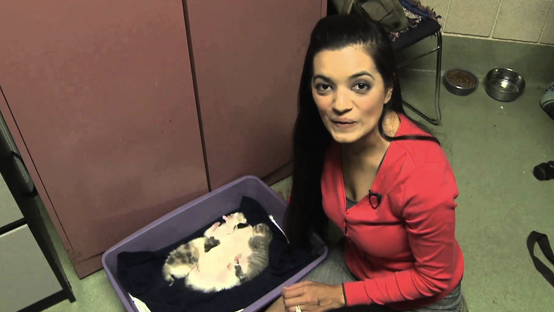 image via – youtube.com
When an animal control officer in Cleveland, Ohio received a call about possible animal neglect she headed out to investigate. Upon arrival at the scene she found a tiny one day old puppy alone in a garage. The poor baby animal was covered in flys and had likely been abandoned since its mother was nowhere to be found.
Knowing its life was in jeopardy, the humane officer rushed the black and white pit bull mix puppy to a nearby animal shelter, the Cleveland Animal Protective League. The shelter workers and volunteers quickly put together an animal care team and immediately cleaned the weak puppy up before giving him a name, Noland.
To survive, Noland was going to need constant around the clock care and a mother's love and attention would be the best thing for him. In light of that, the team at the shelter decided to try something different and place him with a young cat who had just given birth. The placement was going to be a long shot and it would either work well or not at all.
The cat, Lurlene, had arrived at the shelter as a pregnant stray and had given birth to a litter of four kittens just two days prior to the discovery of Noland. When Noland was placed with Lurlene and her kittens, the mama cat immediately welcomed the new fur baby into her family as one of her own.
She licked and cleaned him up and allowed him to nurse, and never once did she try to reject him or turn him away. All four of her babies also accepted Noland and snuggled up with the new addition as if he were a fellow kitten. He was also bottle fed additional formula and food, since his needs were different than the kittens, and in the end he survived and thrived under the care of Lurlene and volunteers.
It turned out that Noland's mother had also been located. The humane officer investigating went back later that same day and found her chained up behind a home. Her name was Molly and she had been badly abused by her owner to the point that she was too emaciated and scared to properly take care of her puppy.
So Noland stayed with Lurlene until he was old enough for adoption, but was eventually reunited with his mother for play sessions at the shelter. Molly's owner was convicted of animal neglect and no animals were returned to them.
This story does have a happy ending. Molly, Noland, Lurlene and all of her kittens were eventually adopted to properly vetted owners and taken from the shelter to their new forever homes.
Please SHARE This Story With Family and Friends