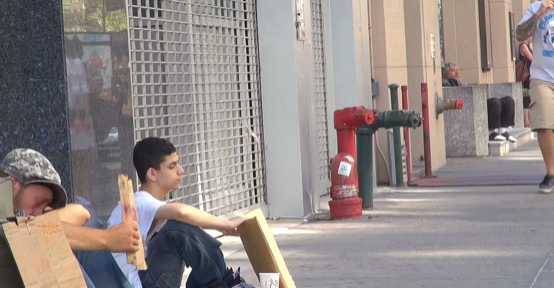 Homelessness is one of the most tragic issues in the United States.  Many of the homeless are mentally ill and without family support or treatment, to help them cope.  Others become ill and have no medical insurance, lose their jobs and have nowhere to turn.
One of the most startling and upsetting group of homeless are vets who have served our nation, try to get employment, and end up on the streets.  Often they are suffering from PTSD and do not get the psychological support they need and deserve, from the government they have served.
There are more and more YouTube channels that are dedicated to social experiments.  Their aim is usually to either reveal the kindness or cruelty of humanity.  In the video you are about to watch below, OCK TV who has done a number of experiments looking at both the reaction to the homeless and the homeless reaction to unsuspected circumstances.
In the following footage the two older brothers have their younger brother, who appears to be 12-13 years old, pretend to be homeless.  They have him sit a few feet away from a homeless vet, with a similar sign that says he is hungry and would appreciate some change.
The reactions to the posing boy and to the homeless vet are startling.  The unbelievable cruelty and conversely generous acts you will witness in the upcoming footage will stay with you for some time, and will hopefully make you think twice when you pass the homeless.
Please SHARE This With Family and Friends