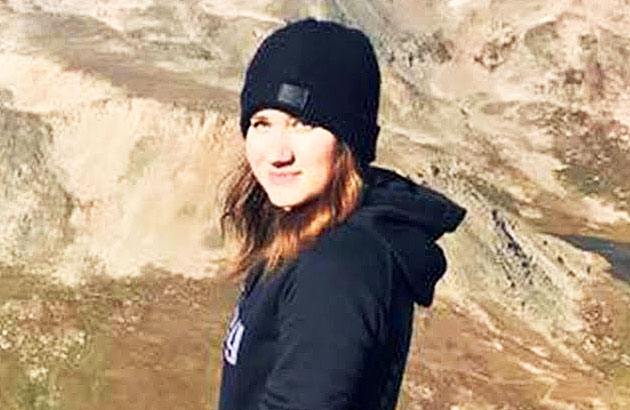 image via – youtube.com
If you heard that a dog was lost somewhere high up on a remote mountain top, what would you do?  If you were an avid hiker with experience climbing 14ers (mountains over 14,000 feet), who knew what you were doing, and who loved dogs, hopefully your response would be the same as what Trinity Smith did. 
She came across a post on the Facebook page of the mountaineer/hiking group 14ers where someone claimed to have heard a dog crying high up on Mount Bross in Colorado. Despite looking around, no one could seem to find any dog and so many people brushed it off as being a coyote or simply someone's else's dog.
Trinity couldn't let it go so easily and it bothered her that there might be a dog stuck up on the mountain.  She'd heard more rumors about a dog barking at night and since the area was desolate and remote, she knew it wasn't simply someone's dog.  She'd also seen a post about a missing dog named Chloe who had ran off while on a hike with her owner at that same mountain.
At 14 years old, Chloe was an older dog with lots of outdoor experience and had always been able to find her way home.  She'd been missing for six weeks and despite her owners searching for weeks, she hadn't been seen since. Trinity thought maybe the two were connected, it made perfect sense and rather than worry about it any further, she resolved to go check and made it her top priority to find the dog. 
On her first day of searching she could hear a dog barking off in the distance but couldn't find it.  Night was falling fast, forcing her off the mountain, but at least she knew there was indeed a dog somewhere out there.  On the second day of searching Trinity's friend, Sean Nichols, joined her.
The two took turns calling out for the dog and been out looking for almost four hours before they finally heard barking far off in the distance.  They moved towards it and once they were close found a spot where the echo wouldn't be distorted. When the dog barked again, they could pinpoint where it was and soon after they found the missing dog, it was Chloe!
The poor animal looked extremely thin and in bad shape.  They'd found her stuck on a steep ledge so weak and malnourished that she didn't have the strength to move.  Sean was able to reach her and picked her up, then he ended up carrying the exhausted dog all the way down the mountain.  When she went missing Chloe had weighed 90 pounds, when she was found her weight had plummeted to just 26 pounds. The first thing Trinity and Sean did was drive to the nearest supermarket to get her some food.  
On the way to the grocery store, Trinity posted that she had found the barking dog on Mount Bross and it tuned out to be Chloe.  The dog's owners found out almost immediately and rushed to meet them at the supermarket. Upon seeing them Chloe lit up, she was finally going home with her family and was safe.  
Initially the vet was worried about how much weight Chloe had lost.  She was quite old and dogs who lose so much of their body weight as Chloe had usually don't get better, instead their bodies shut down.  After a few tense days monitoring her health and weight, they breathed a sign of relief because she started to show signs of improvement and gained weight.  
Trinity and Sean ended up visiting Chloe when she was healthier and were just happy that they were able to rescue her.  They found her in the nick of time, the first snow fell soon after which would have made her survival and locating her all the more difficult.
Watch the video below for the full story:
Please SHARE This With Family and Friends