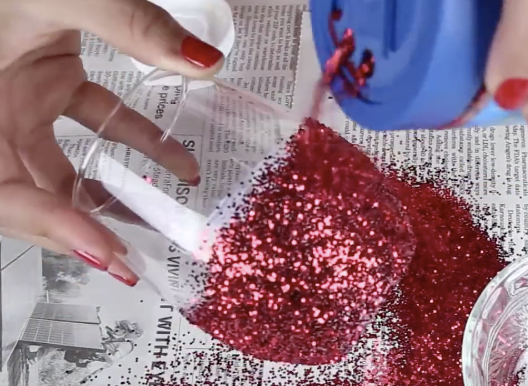 If you find buying festive dinnerware to be a bit pricey and a waste of money, but want or need some decorative pieces to dress up the table this holiday season, try making some yourself! You can custom make beautiful drinking glasses out of a few simple and inexpensive products, and chances are you already have a few of these items on hand.
This easy to follow and replicate project involves creating sparkly and expensive looking drinking glasses. You can use any type of glass you'd like, whether it be a tumbler, shot glass, beer mug, wine glass, or more. This project will turn those boring old glasses into fun, beautiful, glittery pieces that are perfect for all of the upcoming winter holidays, or everyday use!
While the general how-to information is distilled in the description below, for optimum results watch the video for the step by step method used. The items you will need for the glitter glass project are mod podge, glitter, a paint brush, and some drinking glasses.
Start by putting down some pieces of old newspaper to protect the area you're working on and to make the eventual clean up much easier. Pour a little bit of mod podge into a container and then dip the brush into it and start painting the bottom of the glass.
Evenly coat the area of the glass you wish to cover in glitter. The video shows the bottom half being painted but you can do any design, anywhere on it, that you'd like. However, you should avoid painting near the rim or you'll risk getting glitter on your mouth!
Now the fun part. Slowly pour glitter onto the painted portions of the glass, making sure every bit is covered and coated in sparkles, and allow it to sit and dry overnight. The next day, paint on a second coat of mod podge over the dried glitter and allow it to again dry for at least 24 hours.
Now you can use and drink out of the pretty, beautifully decorated glasses!
Please Share This With Family and Friends